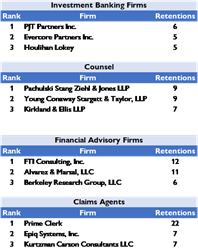 Data-based assessments of performance and ability have never been more important. Today we share a preview of whom we may see at the top of the league tables, based on first half numbers and our first-stage, quantitative assessment of the industry's best performances
BOSTON (PRWEB) September 20, 2018
New Generation Research − publisher of BankruptcyData, The Turnaround Letter and other bankruptcy/restructuring and distressed securities-related content and data platforms, announces half-year rankings of professional services firms in the bankruptcy and restructuring industry.
Through six months our industry leaders are:
Claims Agents – Prime Clerk; Epiq Systems and Kurtzman Carson with 22, 7 and 7 retentions, respectively.
Counsel – Pachulski Stang Ziehl & Jones; Young Conaway Stargatt & Taylor and Kirkland & Ellis with 9, 9 and 7 retentions, respectively.
Financial Advisory Firms − FTI Consulting; Alvarez & Marsal; Berkeley Research Group and Province with 12, 11, 6 and 6 retentions, respectively.
Investment Banking Firms − PJT Partners; Evercore Partners and Houlihan Lokey with 6, 6 and 5 retentions, respectively.
Final standings will be announced in 2019 in Washington, D.C.
These second annual awards will draw upon both quantitative and qualitative criteria. As summer draws to a close, it is the all-important data layer that begins to define the finalists: Finalists for the next crop of award winners must first clear a data hurdle and post impressive numbers as to number of engagements.
BankruptcyData's Director of Research, Nicholas Montgomery notes: "Data-based assessments of performance and ability have never been more important. Today we share a preview of whom we may see at the top of the league tables, based on first half numbers and our first-stage, quantitative assessment of the industry's best performances."
New Generation Research's Founder and Publisher, George Putnam, III, adds, "Data is an honest arbiter of past performance, but layering our hard data assessment with a qualitative analysis gives our awards a forward looking element and reveals those professional service firms whose past performances are most indicative of an ability to deliver tomorrow's optimal client outcomes. We have been fascinated by the power of data to unlock value for clients for over twenty years, but never more so then we are today. The increasingly compressed nature of restructurings and reorganizations makes data ever more important as decision makers contend with the added pressure of time at each stage of what may be the most important moments in their corporate life. Our Industry Best Awards provide useful data to distressed companies as to where paths to success lie at these critical moments and instructive guidance for restructuring professionals as to emerging models and standards that will lift the entire distressed debt space."
Best Claims Agent:
At the end of 2017, Prime Clerk ("Prime") was the obvious choice to carry off our inaugural award for "Best Claims Agent." In a small and highly competitive field they posted 33 retentions, more than the total of their three nearest competitors, Epiq Systems, Inc. ("Epiq," 14), Kurtzman Carson Consultants, LLC ("Kurtzman," 13) and Omni Management Group, Inc. ("Omni," 4) combined.
Will Kurtzman once again face an Epiq battle for second? Through the first six months of this year, and on a raw data basis, it looks that way. Kurtzman and Epiq are deadlocked at 7 retentions apiece and Prime are on track to surpass its total of last year…and to do so in style. Prime's 22 retentions are as qualitatively impressive as they are quantitatively so; with eight of the top 10 Chapter 11 retentions (measured by asset size) and 14 of the top 20.
It would be considerably easier to name the largest bankruptcies for which Prime has NOT been tapped as claims agent, but that would be unfair; and hence the list of its share of the top 10 is as follows: iHeartMedia, Inc., FirstEnergy Solutions Corp., Ascent Resources Marcellus Holdings, LLC, Claire's Stores, Inc., Southeastern Grocers, LLC, EV Energy Partners, L.P., Bon-Ton Stores, Inc. and Fieldwood Energy LLC.
So, is it case closed? Of course not. All four of Prime's major competitors can confidently pitch against Prime on transactions of any complexity and size. Through six months, Epiq has picked up the other two retentions in our top 10 and Kurtzman is just off Prime's pace (5 retentions to Prime's 7) in the middle third of cases filed to date (these companies with assets listed between $100 million and $500 million). Only just behind is Omni with 4 retentions, including a high-profile retention by Brookstone to kick off its second half of 2018.
Best Counsel:
Last year, as we crowned Kirkland & Ellis "Best Counsel," we noted Kirkland's confidence that its "groundwork" put it in a good position to repeat this year. So far, the numbers support this thesis: 7 retentions at the half way mark, comprising almost a third of the largest Chapter 11s (those with over $500 million in assets). This tight grouping of the largest bankruptcies cements their reputation as a go-to firm for the most complex bankruptcies. As they did last year, Kirkland grabbed the lion's share of their energy sweet spot (eg, EV Energy Partners, PES Holdings, LLC and EXCO Resources, LLC) and impressively builds across multiple sectors from there, counting iHeartMedia, Inc. (media & entertainment), NineWest (retail), Cenveo, Inc. (printing) and VER Technologies (production equipment rentals) amongst their clients.
Kirkland has not, however, sewn up next year's awards. 2018 runner-up Pachulski Stang Ziehl & Jones ("Pachulski") is leading Kirkland in total retentions at halftime 9-7, a pace that would see them easily eclipse their 2017 total of 13. Even more impressively, their wins are increasingly top-tier retentions with four in our top 20 and 7 in our top 30. These include EV Energy Partners (energy, top 10), Bon-Ton Stores (retail, top 10), PES Holdings, LLC (energy, top 20), Remington Outdoor Company (firearms, top 20) and Weinstein Company Holdings (entertainment, top 30).
Also still very much in the hunt are Akin Gump, whose four retentions include starring roles in 2018's two largest Chapter 11's to date; iHeartMedia, Inc. and FirstEnergy Solutions Corp. Likewise, in contention is Young Conaway Stargatt & Taylor, who have already matched last year's retention total of 9, emphatically backing up their claim to be "The Delaware Law Firm."
Best Financial Advisory Firm
Through six months, the race for the 2018 crown is shaping up as a two-horse race, with current champion Alvarez & Marsal ("Alvarez") virtually deadlocked with last year's runner up FTI Consulting, Inc. ("FTI"); with FTI currently holding a 12-to-11 retention lead. Qualitatively, the competition is equally close with both firms boasting a healthy share of the year's largest bankruptcies (8 retentions apiece in our top 20), including working together on the largest two, iHeartMedia and FirstEnergy Solutions Corp.
In fact, the two are working together on three transactions (the third being another top 20 case, EXCO Resources, Inc.); cooperation, and its implied transactional efficiencies, perhaps being an even greater threat to other competitors than the firms' individually impressive competitive performances.
Another prominent story is playing out at the back of the pack, behind podium contenders Berkeley Research Group, LLC (6 retentions), Province, Inc. (6) and Zolfo Cooper (5). Our third place finisher last year, AlixPartners LLP, has just two retentions to date, albeit top 10 bankruptcies HCR ManorCare, Inc. and EV Energy Partners.
Could AlixPartners' public feud with McKinsey & Co., be scaring off corporate boards already struggling with their own emotional baggage as they approach Chapter 11? This is certainly amongst the many subjective factors that we will be looking at as we pore over the numbers in advance of the second annual awards in 2019.
Best Investment Banking Firm
Last year Houlihan Lokey ("Houlihan") edged rivals Lazard Ltd ("Lazard") and Jefferies & Co. ("Jefferies"), to carry off the Best Investment Banking Firm trophy, posting 10 retentions to the 9 and 7 of Lazard and Jefferies, respectively.
Through six months, however, Houlihan finds itself in a crowded pack of five led by PJT Partners Inc. ("PJT," 6 retentions), Evercore Partners Inc. (5), Houlihan Lokey (5), Lazard (4) and Perella Weinberg Partners (4). For the moment, Jefferies trails our leaders with 2. Houlihan's efforts to repeat as top investment bank, are not helped by deal size through six months; with no retentions in our top 10 and only two in our top 20.
The story to date, however, seems to be the ability of "boutique" PJT to leapfrog rivals in what is only its third year of operations. Formed in October 2015 via the merger of the advisory arm of The Blackstone Group and Paul J. Taubman's PJT Capital LP, PJT has made short work of making its mark, with four of its retentions in our top 10 and all six in the top 20; sending a powerful message to restructuring competitors against whom it also regularly squares off in the M&A context. PJT's top 10 retentions include FirstEnergy Solutions Corp., Ascent Resources Marcellus Holdings, LLC, EV Energy Partners, L.P. and The Bon-Ton Stores, Inc. PJT also has a fourth energy sector retention with EXCO Resources, Inc.
Too reliant on the energy sector? Certainly something we will watch, but for now the sector has been a pipeline to the top. For its part, Lazard has impressed with each of its retentions not only in the top 20 but also amongst the distressed debt world's most visible (ie, FirstEnergy Solutions Corp, Claire's Stores, Inc., Nine West Holdings, Inc and Remington Outdoor Company, Inc.).
For additional information on BankruptcyData's Industry Best Awards, visit BankruptcyData.com