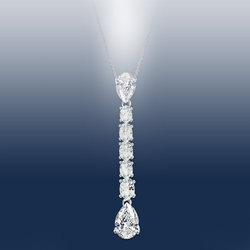 It is a very generous sponsorship which will enhance the stature of the race
(PRWEB UK) 21 May 2015
Banks Lyon Jewellers, the Lancaster-based luxury watch and jewellery retailer, have announced their sponsorship of the Lady Riders' Handicap Hurdle Race at Cartmel Racecourse this July. The race is part of the exceptionally popular Cumbria Crystal Cup Day on the 18th July, headlined by the Cumbria Crystal Hurdle Race, and is known for being one of the most challenging ladies' races over obstacles.
At £10,000, the Banks Lyon Lady Riders' Handicap Hurdle Race will also present one of the most valuable opportunities in the UK for female jockeys this year, and is expected to tempt some of the top female riders in the sport. Whilst many will, of course, be excited to ride for the challenge of the race alone, Banks Lyon are offering a further incentive in the form of a £5,000 diamond necklace for the winning jockey. The piece chosen for this magnificent reward is an exquisite diamond drop pendant, set in 18ct white gold and beautifully displaying a pair of pear cut diamonds top and tailing five oval cut diamonds.
Managing director of Banks Lyon Jewellers, Rodney Banks Lyon, said: "We are naturally very pleased to be able to sponsor this race, as it is a fantastic opportunity for female jockeys in a traditionally male-dominated sport, as well as being an excellent draw to the area. The event as a whole promises to be very exciting, and we are looking forward to a brilliant day of races and entertainment for all the family."
Britain's leading female jump jockey Lucy Alexander was delighted with the news and said: "The Cartmel race is always a very competitive event and one I love to win, but this will add an even greater incentive. It is a very generous sponsorship which will enhance the stature of the race."
Cartmel Racecourse is set in the Holker Estate at the heart of the Lake District, and is renowned for having the longest run-in in the country at four furlongs. Details of the racecourse and their fixtures, including the Cumbria Crystal Cup Day, are available at http://cartmel-racecourse.co.uk/.
Banks Lyon Jewellers have been providing their customers with an unrivalled array of affordable and luxury watches and jewellery for more than 27 years. Since 1986, this family run business has combined exceptionally high quality products with outstanding standards of customer service, consistently delivering expert advice and friendly service to each and every customer. As an official and authorised stockist for a comprehensive range of luxury watch and jewellery brands, including Omega, Chopard, Cartier, Breitling, TAG Heuer, Georg Jensen, Fope and Al Coro, Banks Lyon Jewellers are a unique presence in the North West. There is no other jeweller in the North West, including Manchester and Liverpool, who have such a wide and exclusive portfolio of brands in one location.
For more information about Banks Lyon Jewellers, visit their website at http://www.bankslyon.co.uk or call 01524 38 48 58 for more details.