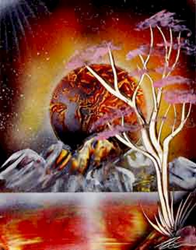 ATOM is the new Banksy!
Washington, DC (PRWEB) April 09, 2014
Mark Sonder, MM, CSEP and the Chief Entertainment Officer at the award winning music and entertainment agency Mark Sonder Productions, Inc. is proud to announce that one of his exclusive clients, spray paint street artist ATOM: World's Fastest Painter has been compared to Banksy, the United Kingdom-based graffiti and spray paint "street" artist.
ATOM, continuing to prove he IS the world's fastest painter is on tour throughout Southeast Asia, including: Thailand, Cambodia, Vietnam, Malaysia and Myanmar, only returning to the States to perform in California, New Jersey, Indiana and Ohio.
ATOM, as Banksy did, sells his artwork on the street when not performing at corporate, association or university meetings, conventions and special events — sometimes fetching only $400, like Banksy. ATOM's paintings have sold for hundreds each. In fact, for meetings and events in the US, ATOM's fee is in the thousands.
To hire the next Banksy, please call Mark Sonder Productions, Inc. at +1-540-636-1640.
About Mark Sonder Productions, Inc.
Created in 1985 to fill a growing need for music, entertainment, speakers, headline entertainers and supportive production in corporate and association meetings, conventions and special events plus facilities, casinos and concerts, the company in its 29 years, has worked in the US, Canada, Mexico, South America, Europe and Southeast Asia.
Contact: +1-540-636-1640 or msonder(at)marksonderproductions(dot)com