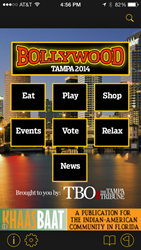 The app introduces event attendees to the host city and Tampa residents to the Bollywood Oscars.
Tampa, FL (PRWEB) April 22, 2014
The International Indian Film Academy (IIFA) awards dances its way into Tampa, Fla., tomorrow and the Bollywood Tampa 2014 Visitors Guide app acts as a guide to both the festivities and the host city. TBO.com and The Tampa Tribune partnered with Bar-Z, a mobile app and web development firm, to develop the app for iPhones and Androids.
The goal of the Bollywood Tampa 2014 app is to introduce event attendees to the host city and to introduce Tampa residents to what's commonly known as the Bollywood Oscars.
"We're proud to be able to help visitors on the go learn more about our local community," said Brian Burns, Tampa Tribune Vice President, Advertising and TBO.com General Manager. "And Bar-Z's technology is helping us make a connection between our advertisers and our local residents and guests."
Those downloading the app will be able to keep up with all the IIFA events which run from April 23-26 and access news from the Tampa Tribune and from bloggers in the local Indian-American community. They'll also be able to read profiles and see photos of the nominees for awards in all categories and participate in an unofficial poll on who should win. To help orient visitors, the app offers information and maps to restaurants, shopping, tourist attractions, beaches and more.
After the event, the app will evolve into Discover Tampa, an enhanced guide for locals and visitors offering information on places to go and things to do around the area as well as the major events and festivals that give Tampa its local flavor.
"We are excited to work with The Tampa Tribune to develop an app that honors this unique special event. Bar-Z is in the business of developing mobile solutions so we are pleased that our system will also allow The Tribune to deliver value to Tampa visitors and locals year-round," said Wm. Lee Little, Founder and CEO at Bar-Z.
About TBO.com and The Tampa Tribune
The Tampa Tribune has served Tampa and the region for more than 100 years, providing local news and information to readers across the area every day. The newspaper's associated web site, TBO.com (Tampa Bay Online), was one of the first local media sites when it launched in 1994. Both are part of the Tampa Media Group, which also publishes the St. Petersburg Tribune and newspapers in Clearwater, Highlands County and Hernando County as well as related digital products such as TBOseen.com.
Contact:
Brian Burns
TBO.com/Tampa Tribune
bburns(at)tampatrib(dot)com
Ph: (813) 259-7166
About Bar-Z
Bar-Z delivers custom branded mobile and web apps "faster than a speeding bullet" with a full turn-key service offering and software platform. The company strives to deliver creative content to people on whatever device they happen to have with them including Apple iPhone and Google Android devices. Bar-Z creates apps for a variety of industries including higher education, publishing, broadcasting, destination marketing and tourism. For more information, visit http://www.bar-z.com.