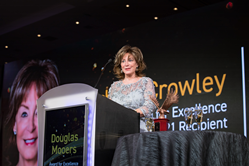 "[Barbara] inspires us all with her unquenchable thirst for knowledge and her dedication to advancing this profession." - Seixas "Chad" Milner III
FAIRFAX, Va. (PRWEB) November 29, 2021
The National Association of Independent Life Brokerage Agencies (NAILBA) presented Barbara Crowley, CEO of Brokers Clearing House, Ltd., with its 2021 Douglas Mooers Award for Excellence (sponsored by MassMutual Strategic Distributors) onstage at its 40th Annual Meeting in Orlando, FL. The organization also formally honored its 2020 winner, Seixas G. "Chip" Milner, who accepted his award virtually last year due to the COVID-19 pandemic.
The annual award, NAILBA's most coveted and prestigious accolade, honors distinction in brokerage and is presented to the individual most committed to furthering independent life brokerage as a distribution system, and who demonstrates an exemplary record of community service.
"Barbara is often referred to fondly as the Mother of Brokerage," said Seixas "Chad" Milner III, NAILBA's Immediate Past President, who presented Crowley with the award. "She has impacted the lives and careers of so many in our industry, including my own. She inspires us all with her unquenchable thirst for knowledge and her dedication to advancing this profession."
Crowley joined her father at Brokers Clearing House in 1977, where she learned the insurance business from every aspect. She is past Chair of NAILBA and served on the board of The NAILBA Charitable Foundation. Crowley is a founding member of LifeMark Partners, one of the largest independent insurance marketing organizations in the US, and is also a member of Finseca, NAIFA, SFSP and FPA. Her commitment to furthering opportunity for women is why she is also a member of Women in Financial Services (WIFS) and NAWBO.
During her career, Crowley has served on multiple carrier advisory boards, acted as a consultant for special carrier projects, authored articles for trade publications, and has been a featured speaker at industry events. She is active in her community, including as a supporter and advocate for the West Des Moines Human Services Programs, Hope Ministries, The Salvation Army, The Blue Ribbon Foundation for the Iowa State Fair, Food Bank of Iowa and The Special Olympics. Crowley is also a longtime supporter of Des Moines Performing Arts.