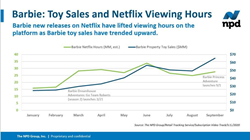 Sales of the Barbie property in toys has trended similarly to the rise in time spent watching Barbie titles on Netflix.
PORT WASHINGTON, N.Y. (PRWEB) November 19, 2020
The second-season Netflix release of "Barbie Dreamhouse Adventures" in March 2020, and the movie, "Barbie Princess Adventure," in September 2020, have lifted the number of hours watched of all Barbie releases on Netflix through September. Toy sales have followed suit, as sales of the Barbie property has trended similarly to the rise in time spent watching Barbie titles, according to The NPD Group.
"Contributing to the growth in the Barbie property was the Barbie Dreamhouse, which was among the top 10 fastest selling toys* in the U.S. from March to September 2020," said Juli Lennett, NPD's toys industry advisor. "The latest season of 'Barbie Dreamhouse Adventures' on Netflix also debuted on Netflix in March, right when stay-at-home orders began and families with kids started watching a lot more streaming video."
The amount of time spent watching Barbie titles on Netflix more than doubled between February and June 2020. "While we can't attribute the subsequent success in toys directly to increased Netflix viewing, given that the pandemic shelter-at-home orders likely played a role, there is a correlation," said Lennett. "It was readily apparent, once we noted the increase in time spent viewing in June and the increase in Barbie toy sales that same month."
About The NPD Group, Inc.
NPD offers data, industry expertise, and prescriptive analytics to help our clients grow their businesses in a changing world. Over 2,000 companies worldwide rely on us to help them measure, predict, and improve performance across all channels, including brick-and-mortar, e-commerce, and B2B. We have services in 19 countries worldwide, with operations spanning the Americas, Europe, and APAC. Practice areas include apparel, appliances, automotive, beauty, books, B2B technology, consumer technology, e-commerce, fashion accessories, food consumption, foodservice, footwear, home, juvenile products, media entertainment, mobile, office supplies, retail, sports, toys, and video games. For more information, visit npd.com. Follow us on Twitter: @npdgroup.