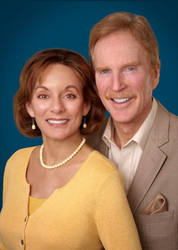 "The lessons we learned apply to all businesses," Houlihan says. "We are asked the same two questions from students all over the world: 'What keeps you going in the face of adversity?' and 'How do you prepare for the unknown?'"
(PRWEB) April 14, 2017
Best-Selling Authors Michael Houlihan and Bonnie Harvey Will Recount Lessons Learned Building Top Wine Brand at April Cal Poly Pomona Leadership Forum
Their book on transforming Barefoot Wine from the verge of bankruptcy to a leading brand became a New York Times bestseller. Now the public has the opportunity to hear the two entrepreneurs free of charge.
Michael Houlihan and Bonnie Harvey relied on innovative business tactics to take Barefoot Wine to the top with extremely limited resources. They will share experiences and advice obtained along the way on April 18 as keynote speakers in the latest installment of Cal Poly Pomona College of Business Administration's Dean's Leadership Forum.
"The lessons we learned apply to all businesses," Houlihan says. "We are asked the same two questions from students all over the world: 'What keeps you going in the face of adversity?' and 'How do you prepare for the unknown?'"
Houlihan and Harvey have spoken at more than 50 schools that teach entrepreneurship with students in North America, Europe, Australia, and Asia. Their New York Times Bestseller, The Barefoot Spirit, How Hardship, Hustle, and Heart Built America's #1 Wine Brand is widely used in business schools that teach entrepreneurship.
The Dean's Leadership Forum is a special series that aims to inspire and motivate future leaders to transform business and society. Past keynote speakers included FUBU founder and "Shark Tank" star Daymond John and hostage-survivor Captain Richard Phillips.
"We are excited to tell our story and share the lessons we learned at a university that was founded on a legacy of giving," says Harvey in reference to the 813 acres of land where the college sits deeded to California by the iconic businessman. "W.K. Kellogg was a pioneer in the food and beverage industry from which we came. We share his love of education and want to help young entrepreneurs achieve success."
Houlihan and Harvey will address the two questions they receive most and recount their humble beginnings from the laundry room of their rented farmhouse to their ascension to the board room of the world's largest wine company. They will also deliver what they call "The Guiding Principles for Success," or GPS for short.
Completely void of wine industry experience, Houlihan and Harvey began their adventure with an initial investment of 18,000 cases with disregard for traditional marketing campaigns. According to Impact Databank, Barefoot sold 18.1 million cases in 2015.
"There is a misconception that startups need substantial investments from well-connected venture capitalists to succeed," says Dean of the College of Business Administration Erik Rolland, Ph.D. "Michael and Bonnie outsmarted and outworked their way to the summit of the wine industry; they are excellent examples for our thriving entrepreneurial community, proving that several roads can lead to accomplishment."