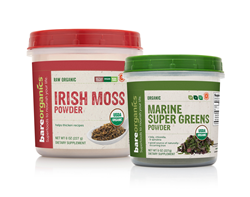 "WR Group is excited to introduce BareOrganics Superfoods powders to Whole Foods shoppers. Both our companies are dedicated to bringing wholesome, top quality and nutritious products to families and communities, so this launch was a natural fit for both brands."
SCOTTSDALE, Ariz. (PRWEB) April 07, 2020
WR Group, one of the country's leading global wellness companies, is pleased to announce that its best-selling BareOrganics Irish Moss and Marine Green Superfoods Powders are now available in Whole Foods stores.
The Marine Super Greens helps support overall vitality and immunity support with organic kelp, chlorella and spirulina. It provides a good source of naturally-occurring iron and promotes general health and wellness. Irish Moss is a popular baking staple commonly used as a vegan thickening addition to recipes such as smoothies and desserts. It helps add texture where needed, and nutrition as well. Irish Moss, also known as Sea Moss, has also been used for energy and has been known to act as a natural antiviral and antimicrobial algae that is rich in antioxidants and vitamins.
"WR Group is excited to introduce BareOrganics Superfoods powders to Whole Foods shoppers," says Renee Barch-Niles, EVP – Retail at WR Group. "Both our companies are dedicated to bringing wholesome, top quality and nutritious products to families and communities, so this launch was a natural fit for both brands."
BareOrganics is a unique line of superfood powders, juices, tinctures, beverage enhancers and brew cups dedicated to providing simple, real nutrition for real people. Each product is designed to help customers meet their daily nutrition goals, feel energized, and know that they're getting their nutrients from the best raw, organic sources. BareOrganics superfoods are USDA Certified Organic, Natural, Chemical-Free and Non-GMO. The collection is packaged with techniques like freeze-drying and low temperatures to preserve the integrity and freshness of the foods. In the complex world we live in, BareOrganics has pledged to keep nutrition simple.
BareOrganics Superfoods are not only good for you, they're good for the planet, too. With sustainability at its core, each BareOrganics container is either 100% recyclable or in some cases biodegradable. Customers can easily reuse their powder jars to plant an herb garden, compost their brew cups at home and recycle their juice bottles. After filling your body with goodness, you can rest easy knowing you're treating the planet with kindness.
Prices: Irish Moss - $26.95 | Marine Greens - $24.95
For more information about BareOrganics Superfoods, please visit BareOrganics.com.
About Whole Foods: We're the world's leader in natural and organic foods, with 500+ stores in North America and the UK. Our purpose is to nourish people and the planet. We're a purpose-driven company that aims to set the standards of excellence for food retailers. Quality is a state of mind at Whole Foods Market. We seek out the finest natural and organic foods available, maintain the strictest quality standards in the industry, and have an unshakeable commitment to sustainable agriculture. Add to that the excitement and fun we bring to shopping for groceries, and you start to get a sense of what we're all about.
About WR Group: WR Group is one of the world's fastest growing global manufacturers and distributors of high-end health and personal care products. Its extensive brand portfolio includes nearly 900 products, which are distributed to more than 60 countries worldwide. WR Group, based in Scottsdale, AZ., has an active consumer base of over 2 million customers that have grown to become loyal, repeat purchasers. Since 2001, WR Group has been a leader in the health and wellness industry. WR Group has designed 16 uniquely high-quality brands with a focus on delivering the cleanest, most effective products available for families including Probiogen™ Spore Probiotics, ORALGEN NuPearl® Teeth Whitening, BareOrganics™ Superfoods and more.