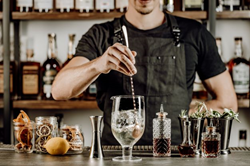 RONKONKOMA, N.Y. (PRWEB) January 04, 2023
Barfly® Mixology Gear is looking forward to be back at The NAFEM Show in 2023. Barfly® continues to expand its product line. Our focus is helping our customers grow their business portfolio by introducing bar tools which allow professional bartenders to deliver masterful results.
The entire Barfly line will be on display, including the latest additions:
-18-8 stainless steel etched diamond lattice shaker sets. Available in 5 finishes, these shakers need to be seen in person to be fully appreciated.
-A variety of bitters bottles in a wide selection of shapes, styles and capacities in contemporary, retro and classic styles. All of Barfly's bitters bottles are easy to hold with excellent balance and provide an accurate dash when full or almost empty.
-A unique fine mesh spring strainer which allows for double straining with just one tool. Available in 5 finishes.
-Colored Mixing Glasses available in three vibrant colors – blue, rose, and gold. A retro reflective interior adds a distinctive look.
-Barfly's mixing glass line is expanding with two new patterns in 17 oz. and 24 oz. capacities and a wider base 25 oz. glass delivering greater stability. A large capacity footed version with a curved shape provides excellent stirring action.
-Two new premium jiggers, Superfly® and Yakuza, both constructed with 18-8 stainless steel for durability.
-A jumbo aluminum juicer, which sits on any countertop/work surface and a deluxe handheld stainless steel juicer. Each offers a large capacity bowl to accommodate lemons and limes.
-Our line of serving tools is growing with two new cocktail picks - pineapple and bamboo knot tops in two finishes. Plus, we added a gold plated finish on our current styles. For larger size mint juleps we now offer 13.5 oz. deluxe julep cups in three finishes; stainless steel, copper plated and gold plated.
Visit booth #1869 to learn more about Barfly Mixology Gear.
The NAFEM show takes place February 1-2, 2023 at the Orlando Convention Center, Orlando FL. If you are unable to attend the show, visit http://www.barflybymercer.com, or contact Barfly Mixology Gear, 1-800-221-5202 or sales@barflybymercer.com for more information.
About Barfly Mixology Gear
Barfly Mixology Gear is fine barware for the professional bartender and home enthusiast. Produced and owned by Mercer Culinary, a second generation family business which manufactures and supplies cutlery and accessories for the professional culinary market. Barfly tools are manufactured from exceptional materials. The collection is designed with precision, control, and accuracy to ensure masterful results for making perfect cocktails.
Contact:
Lisa DeMartino
Marketing Communications Manager
Barfly Mixology Gear
1860 Smithtown Avenue
Ronkonkoma, NY 11779
631-865-4718
ldemartino@barflybymercer.com
http://www.barflybymercer.com