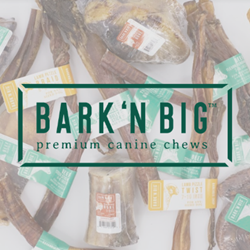 "The partnerships with Rio and Aloha will greatly benefit retailers," said Chris Milliken, national sales manager, BarkDine. "Through Rio and Aloha, BarknBig retailers will see consistent fulfillment and order processing in addition to a one-stop customer service experience."
LOVELAND, Colo. (PRWEB) September 29, 2020
BarkDine announced today that BarknBig, America's premium canine chews manufacturer, has rebranded its visual identity in conjunction with the implementation of two new distribution partnerships. BarknBig has partnered with Rio Grande Service Center in Albuquerque, NM that will service retailers in Arizona, Colorado, New Mexico, and Wyoming and Aloha Natural Pet Supply in Richland, WA that will service retailers in Oregon and Washington.
"The partnerships with Rio and Aloha will greatly benefit retailers," said Chris Milliken, national sales manager, BarkDine. "Through Rio and Aloha, BarknBig retailers will see consistent fulfillment and order processing in addition to a one-stop customer service experience."
Aloha Natural Pet Supply and Rio Grande Service Center will now offer BarknBig's full line of bones and chews for dogs of all sizes. All products are chemical- and additive-free, handcrafted, and sourced from nearby meat-packing plants. These products will also be available on the new wholesale website, barknbig.shop.
In addition, Rio Grande Service Center, Aloha Natural Pet Supply, and all BarknBig.shop wholesale Customers will carry BarknBig's newly rebranded product.
"The visual identity rebrand focuses on the quality of the BarknBig product," said Justin Boling, director of marketing. "The new packaging, labels, and logo that represent BarknBig are simple to read with colors that will grab the consumer's attention."
BarkDine is a full-service, private label co-packer for the pet industry that produces hundreds of lines of pet bones and chews. BarknBig is part of BarkDine. For more information about BarknBig, go to BarknBig.shop.