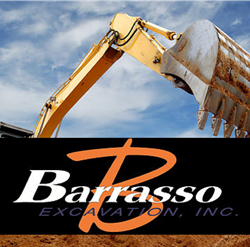 We're seeing an unprecedented growth in construction-related services throughout Berks County
READING, Pa. (PRWEB) July 09, 2019
Barrasso Excavation, Inc., is projecting exceptionally rapid growth in the excavation and construction industry in Berks County for 2019 and beyond. They credit a strong US economy as the primary driver behind their current expansion, which includes adding staff in multiple job categories from entry level to highly-skilled positions.The new positions are being added to keep pace with stronger-than-expected customer demand for commercial and residential excavation projects primarily in the greater Berks County, PA region for 2019 and the foreseeable future.
Matt Barrasso, president, cited the company's need for truck drivers, heavy equipment operators and laborers to meet a projected 35% growth rate through 2020. "We're seeing an unprecedented growth in construction-related services throughout Berks County, and excavation services are part of that trend" said Barrasso. "Businesses are expanding, so we're aggressively moving to fill positions to try to stay ahead of the curve. We especially need truck drivers, laborers and heavy equipment operators to keep up, and we're hiring as we speak. Others I've spoken with in the construction industry are facing similar challenges."
Those seeking more information regarding this trend may contact Barrasso's main office by calling (610) 987-0025 or by emailing them at info(at)barrassoexcavation.com.
About Barrasso Excavation
Barrasso Excavation, Inc. is an independently owned and operated full-service excavation company founded in 2005. Fully bonded and licensed, they specialize in Site Development, Field-Related Hauling, Commercial, Industrial, Residential, and Public Utility work and field-related construction.
Find them at http://www.barrassoexcavationpa.com.