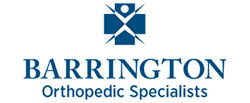 "With Dr. Merlin's addition, we will be better able to serve the large population of patients with upper extremity injuries," said Dr. Ciro Cirrincione, President of Barrington Orthopedic Specialists
SCHAUMBURG, Ill. (PRWEB) October 04, 2018
Barrington Orthopedic Specialists is pleased to announce the addition of Dr. Gabriel Merlin.
He specializes in conditions of the upper extremities, particularly the hand, elbow, and shoulder. According to the CDC's National Hospital Ambulatory Medical Care Survey 2015, injuries to the upper extremities were the third leading cause of an emergency room visit.
Dr. Gabriel Merlin is a board-eligible, fellowship-trained orthopedic surgeon with a specialty focus in conditions of the hand, shoulder, and elbow. Dr. Merlin earned his undergraduate degree from Washington University in St. Louis. He completed his medical degree at Boston University School of Medicine and his orthopedic surgery residency at Boston University Medical Center. He also completed advanced fellowship training in hand, upper extremity, and microvascular surgery at the Philadelphia Hand to Shoulder Center. Additional information on Dr. Merlin can be found on our website.
"We are pleased to add Dr. Merlin to our upper extremity provider team," said Dr. Ciro Cirrincione, President of Barrington Orthopedic Specialists. "With Dr. Merlin's addition, we will be better able to serve the large population of patients with upper extremity injuries." Dr. Merlin added, "The critical importance of upper extremity function on overall quality of life of all persons makes hand and upper extremity surgery a particularly rewarding area of orthopedic surgery. I am excited to join the excellent upper extremity team at Barrington Orthopedic Specialists in order to serve this important patient population."
About Barrington Orthopedic Specialists:
Barrington Orthopedic Specialists is a leading orthopedic practice in the northwest suburbs of Chicago. In addition to upper extremities, providers serve patients with a wide variety of lower extremity, spine, and joint injuries. Barrington Orthopedic Specialists also offers rehabilitation services, MRI and a surgery center. We have offices in Schaumburg, Buffalo Grove, Elk Grove Village, and Bartlett.