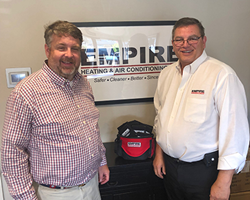 It was really wonderful to have some one-on-one time to discuss topics of concern in a relaxed and casual environment.
ATLANTA (PRWEB) July 08, 2019
On June 27, 2019, Barton James, President of Air Conditioning Contractors of America visited Martin and Gila Hoover, the owners of Empire Heating and Air Conditioning. During James' visit with Empire both he and Hoover had the opportunity to discuss business matters as well as many current issues that ACCA is actively involved in. It was a very productive event for both parties.
After a tour of the facilities in Decatur, Georgia and meeting many of the employees at Empire, James and Hoover took the opportunity to discuss many topics including: the recent and upcoming changes to the ACCA organization, a new refrigerant phase in process, training opportunities, current advocacy issues, and many other business topics.
Hoover expresses his feelings on the opportunity to meet with James in person and go over various matters: "It was really wonderful to have some one-on-one time to discuss topics of concern in a relaxed and casual environment. Barton and I were able to share our experiences on many issues."
James was in Georgia attending courses for the National Chamber of Commerce at UGA. His itinerary also included meeting with Bruce Widener, the executive director of CAAG (Conditioned Air Association of Georgia), before returning to Washington DC.
About Barton James
Barton James has years of experience in leadership roles in large organizations. Before joining the ACCA, he worked as: Executive Director of the National Mitigation Banking Association, Director of Advocacy for the Land Trust Alliance, and Director of Public Policy for Ducks Unlimited. This strong background in management helped build his reputation for exceptional problem-solving and leadership skills. He was named President and Chief Executive Officer of the ACCA in March 2019.
About ACCA: Air Conditioning Contractors of America
Air Conditioning Contractors of America, also known as the ACCA is an organization dedicated to serving its members of HVAC contractors across the country. Located in Virginia, the organization works with corporate sponsors including Daikin, Honeywell, and more, and has over 3,000 heating and air businesses listed as members.
In a recent article, the ACCA announced the restructuring of committees to create a better, more responsive organization focused on the needs of its members. "2019 is a year of change for ACCA and I'm excited to work with every member of our staff, our board of directors, and committee volunteers as we prepare ACCA to serve today's and tomorrow's contractors," ACCA President and CEO, Barton James exclaimed.
About Martin Hoover
Martin Hoover and his wife, Gila started Empire Heating and Air Conditioning in 1985. Hoover currently serves as Empire Heating and Air President. He joined the ACCA Board of Directors in February 2018, and now serves as the Chairman of the Membership Committee. His position in ACCA, paired with his role at Empire, has made Hoover well-versed in the air conditioning industry. Hoover makes an effort to stay constantly aware of what is happening in the HVAC world so he can properly inform his customers and ensure they receive quality service.
About Empire Heating and Air Conditioning
As an active member of the ACCA, Empire Heating and Air Conditioning is one of Atlanta's largest providers of heating and cooling services. The company's service area extends to most of the Metro-Atlanta area, and their experienced technicians specialize in the installation, repair and maintenance of HVAC units. The company also offers services such as indoor air quality testing, ductwork repair, and more.
To learn more about Empire Heating and Air Conditioning and the company's services, please visit: https://empirehvac.com/
To find out more about the Air Conditioning Contractors of America, go to: https://www.acca.org/home