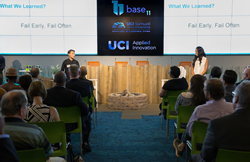 The career-focused experience and innovation mindset that students will gain in a Base 11 Innovation Center is in high demand in the industry.
Irvine, CA (PRWEB) August 10, 2017
This week, Base 11 and UCI Applied Innovation officially opened the Base 11 Innovation Center at UCI's Cove. The Base 11 Innovation Center, featuring an MIT-inspired Fab Lab, includes high-tech advanced manufacturing and rapid prototyping equipment that allows users to design and build almost anything they can imagine.
The facility was installed as part of the partnership between Base 11 and UCI Applied Innovation, which is housed at the Cove.
"The Base 11 Innovation Center is the focal point of the ecosystem we're establishing in Orange County to prepare more high potential, low resource students to fill in-demand jobs and launch new business ventures in fields like technology, aerospace and life sciences," said Landon Taylor, CEO of Base 11.
More than 375 companies within a 50-mile radius of the Base 11 Innovation Center are recruiting for STEM talent, according to an analysis by Base 11.
In the greater Orange County area, more than 1.2 million students from UCI and other local universities, community colleges and high schools could access both the innovation center and the array of resources available at the Cove, including entrepreneurship training, mentoring, funding, incubation and acceleration.
"We're proud to expand UCI's partnership with Base 11, continuing to enhanced experiential learning and create more economic opportunity for entrepreneurs from underrepresented communities. UCI is increasingly being recognized for our track record of inclusion, and academic and research excellence among our first-generation, low-income and minority students. The Base 11 partnership will allow us to take it up a notch and encourage more entrepreneurs find success in STEM industries," said Richard Sudek, Chief Innovation Officer and Executive Director of UCI Applied Innovation.
Developing STEM talent who are prepared to work in the region's in-demand science, technology, engineering and math (STEM) fields is a key focus of the partnership between Base 11 and UCI Applied Innovation, which aims to benefit local industry.
"The career-focused experience and innovation mindset that students will gain in a Base 11 Innovation Center is in high demand in the industry," said Al Bunshaft, SVP of Global Affairs for Dassault Systèmes. "Dassault Systèmes is excited to be one of the first companies to be part of this STEM ecosystem model in Orange County."
Within the Base 11 Innovation Center, corporate partners can offer apprenticeships, training programs, innovation challenges, job posting and more.
During the August 7th celebration of the opening of the Base 11 Innovation Center, community college students recruited from across the country presented the final capstone projects they developed in Base 11's Autonomous Systems Engineering Academy summer fellowship program at UCI. The full capacity crowd at The Cove at UCI Applied Innovation included leaders of industry, academia and philanthropy, students and parents.
About UCI Applied Innovation
UCI Applied Innovation brings campus-based discoveries together with Southern California's vibrant business community to support job creation and economic growth. UCI Applied Innovation serves as the "front door" for industry collaboration, connecting resources to drive innovation. UCI Applied Innovation provides industry and campus resources and capabilities with a "one-stop shop" service for industry collaboration facilitating: entrepreneurs seeking access to university inventions and talent, large corporations looking to tap the school's research capabilities, and investors wanting to financially support promising new companies. Additionally, UCI Applied Innovation is working to cultivate an "innovation district" in the heart of Southern California, producing more start-ups, more scale-ups, and ultimately a world-class entrepreneurial ecosystem. innovation.uci.edu
About Base 11
Base 11 is a nonprofit workforce development accelerator focused on solving the STEM talent pipeline crisis being fueled by the underrepresentation of women and minorities.  Base 11 facilitates partnerships with industry, academia and philanthropy which deliver to employers a pre-recruitment pipeline of well-trained, highly skilled STEM talent.  By establishing Innovation Centers integrated with hands-on project based learning and STEM entrepreneurship training, Base 11 and its partners set students on direct pathways to four-year STEM degrees, well paid STEM jobs, and the opportunity to launch their own STEM related business. For more information, please visit http://www.Base11.com. Base 11 is a DBA of the Center for Innovations in Education, a nonprofit 501(c) 3 – IRS exemption EIN# 26-4365936.