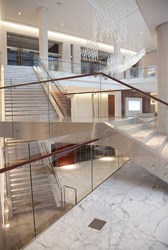 'Everyone who experiences this building can immediately appreciate the level of professionalism and detail that went into its construction and we have HITT to thank for that,' said John J. Hamre, President, CEO and Pritzker Chair at CSIS.
Washington, DC (PRWEB) December 02, 2013
HITT Contracting Inc. recently completed the construction of the new 130,000 s.f. build-to-suit headquarters building for the Center for Strategic & International Studies (CSIS). The complex is located at 1616 Rhode Island Avenue, NW and features nine-stories of above-grade office space, a below-grade concourse and three levels of below-grade parking. Beyond its dynamic stone and glass façade, the facility boasts a multi-story entry lobby that connects three levels of state-of-the-art conferencing facilities and world-class office space for CSIS scholars and staff. Set in one of DC's most well-known quadrants for embassies and university satellite campuses, the new facility achieves CSIS' vision for the building to be a premier destination for global dialogue and the development of strategic insights.
From the asymmetrical exterior to the modern, highly flexible office interiors, the building's form responds to both the functions of CSIS and its prominent location within L'Enfant's urban plan. Hickok Cole Architects developed a dramatic design solution that acknowledges CSIS' position as a forward-thinking, bipartisan think tank that prepares far-reaching solutions for the most important global issues. Furthermore, the building's façade is shifted off-center towards Scott Circle to capitalize on the long view afforded to the north and northeast across Scott Circle. To bring this vision to life, construction required sheeting and shoring of excavation and installation of post-tension above grade slabs, core and shell building construction and a full building interior fit-out.
"This building's design and technology demanded the highest standard of care and collaboration between the architecture and construction teams," said HITT Executive Vice President Jeremy Bardin. "The headquarters' bold design, inspired by CSIS' mission of sustaining American prominence and prosperity as a force for good in the world, reflects its ranking as the world's top international relations think tank."
One feature of the project is a custom, LED-lit sculptural installation commissioned by CSIS. Designed by SoSo Limited of Boston, the light fixture depicts a map of the world and lights up in response to real time activities around the globe. HITT worked closely with the design team to ensure that the building's infrastructure supports the interactive art installation.
"We couldn't be happier with our new home and wish to thank everyone involved for making this a reality," said John J. Hamre, President, CEO and Pritzker Chair at CSIS. "Everyone who experiences this building can immediately appreciate the level of professionalism and detail that went into its construction and we have HITT to thank for that."
The design and construction of the new building was guided by the latest green principles and is on track to achieve LEED Platinum Certification. CSIS celebrated its new home with a ribbon cutting ceremony.
_________________________________________
The project team included: Center for Strategic and International Studies (Owner); Hickok Cole Architects (Architect); Jones Lang LaSalle (Owner's Representative); Thornton Tomasetti (Structural Engineer); Dewberry (MEP Engineer); Trace (Landscape Architect); Wiles Mench Corporation (Civil Engineer); Bliss Fasman (Lighting Designer); RTKL (A/V); CDC (Building Envelope); Heller & Metzger (Specifications); and Wells + Associates (Traffic).
About HITT Contracting Inc.: Founded in 1937, HITT Contracting has grown to be ranked among today's 100 Largest General Contractors nationwide, with offices in Washington, DC, Atlanta, Baltimore, Charleston, Denver and South Florida. Our client-focused teams fulfill any program need from a doorknob change to base building shells and complete tenant/owner fit-outs. Company-wide, HITT maintains more than 700 employees, including a skilled in-house field force available 24/7 to support clients long after initial occupancy. The HITT Way for quality and excellence defines the core of our mission and how we are structured. Teams are organized into expert market sectors, specializing in corporate base building and interiors, government, healthcare, hospitality, institutional, law firms, paint and service and technology. Complementing these market sector teams are the preconstruction, sustainable construction and subcontractor relations divisions. For more information, please visit http://www.hitt-gc.com/. Follow us @twHITTr.
HITT Base Building is a market sector within HITT Contracting Inc. HITT Base Building's capabilities encompasses new construction of core and shell, complete development of land parcels, and full build-to-suits. Other experience includes horizontal and vertical additions to existing structures, underpinning, façade preservations and historic renovations. HITT Base Building is also organized to partner with other HITT market sectors, offering clients complete turnkey service.
-###-