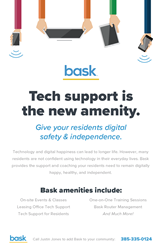 Our program helps residents feel empowered to use the devices and technology around them.
Lehi, UTAH (PRWEB) May 09, 2017
Bask Technology, Inc., the leading remote home technical support service, is announcing a new Community Partnership Program designed for 55+ apartments and communities.
The program includes unlimited phone and chat technical support for residents, on-site events or one-on-one coaching sessions, leasing or main office tech support, and router management. The program may be billed as full community coverage, an added amenity, or direct-to-resident.
Bask community ambassadors have conducted one-on-one sessions and other events at approximately 30 communities in Utah and Texas, which have ranged from one to 40 attendees each, but plan on extending their services to other U.S. states based on demand.
"Our program helps residents feel empowered to use the devices and technology around them," explained Justin Jones, the Director of Outside Sales. "I recently helped an elderly resident who received a new tablet from her grandchildren, but hadn't even signed into it."
Not everyone needs a how to or a quick fix. Some residents seek assistance from Bask to learn new tricks or master a skill.
"We're seeing that more seniors that we're getting in now are a little more tech savvy than they were 14 years ago," explained Jennifer Simons, the community manager for Coventry Cove, which is the first senior living community to partner with Bask. "So many have smartphones and tablets- they would come to me for that kind of help."
According the study 'Can ICT improve the quality of life of elderly adults living in residential home care units? From actual impacts to hidden artifacts' (Behaviour & Information Technology, 2013), easy access to email, online leisure games and journaling increases the health and social happiness in seniors.
"The study shows that on a personal level, technology increases both the self-esteem and self-confidence of the residents. More interestingly, perhaps, the experiment also prompted the individuals to play a greater role in social activities where they helped and supported one another," explained ScienceDaily.
This is the first major onsite program the company has offered, as most work is done remotely through screen sharing software.
"These visits are a huge opportunity for us to hear what technology pains people have, which we can then integrate into the services we offer," explained Jones.
"[The residents] really look forward to the visits and the help from Bask," said Simons.
Bask joined the Utah Apartment Association and National Apartment Association earlier this year and is scheduled to attend the 2017 NAA Education Conference & Exposition, June 21-24, in Atlanta.
To discuss a Bask Community Outreach Program for your residents, please contact Justin Jones at (385) 335-0124 or Justin.Jones(at)bask(dot)com.
About Bask Technology, Inc.
Bask offers more than technical support, they provide people support. The company empowers its members to embrace new technology and stay protected from threats to their privacy and personal data by combining top-rated software with advice and solutions from an all U.S.-based team of Technology Advisors. Bask provides assistance when people need it, for any device, in everyday language. For more information, please visit https://www.bask.com.