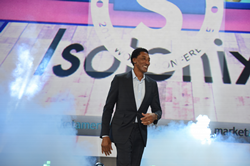 "Prime Joint Support has kept me active and kept my body with a lot of fluidity, and I stay pretty active, but I think it's been because the product has allowed me to continue with my day-to-day activities.. It's been a blessing for me to be able to have this product." Scottie Pippen
GREENSBORO, N.C. (PRWEB) August 20, 2020
Wouldn't it be great if we could just press pause on aging? It feels a bit unfair that as we age, we seem to find more and more appreciation for the smaller things in life, yet we're held back from many experiences because of the physical decline from aging. Market America | SHOP.COM is here to help. Don't believe it's possible? Well, we have someone that you might want to hear from.
One of the 50 greatest players ever to play the game of basketball and two-time Olympic gold medalist, Scottie Pippen, is proud to endorse one of the best joint support formulas on the market, Prime Joint Support Formula by Isotonix®. So, what makes this product so valuable?
First, this joint support formula is the only product on the market that delivers glucosamine*, Pycnogenol® and hyaluronic acid in isotonic form. Second, most joint supplements you'll find on the market actually contain glucosamine, chondroitin and methylsulfonylmethane (MSM), but you might not know that the research on chondroitin is actually controversial because evidently, chondroitin has very poor absorption. Moreover, with its combination of three proven ingredients, Prime Joint Support Formula by Isotonix is one of the best available, and here's why:
1. Glucosamine promotes the normal production of synovial fluid, which lubricates your joints and regenerates cartilage.** ±
2. Pycnogenol is one of the most researched ingredients in the natural product marketplace and is a natural plant extract from the bark of the maritime pine tree, which grows exclusively along the coast of southwest France in Les Landes de Gascogne. Among many of its super-antioxidant capabilities, Pycnogenol inhibits the body's overactive inflammatory processes and supports relief from temporary inflammation associated with daily activities and the normal aging process. Pycnogenol is also available in other products such as Isotonix OPC-3. **
3. Last but not least, hyaluronic acid helps maintain strong, healthy cartilage and promotes normal healing.** And because of its hydrating effects, it's even used in a multitude of skincare products, such as Lumière de Vie® Intense Rejuvenation Crème.
With these three powerful ingredients, you're giving your joints some of the best support available while helping to maintain joint comfort and keeping your joints young. As Scottie says, "Prime Joint Support has kept me active and kept my body with a lot of fluidity, and I stay pretty active, but I think it's been because the product has allowed me to continue with my day-to-day activities.. It's been a blessing for me to be able to have this product."
±The source of glucosamine contains shellfish.
**These statements have not been evaluated by the Food and Drug Administration. This product(s) is not intended to diagnose, treat, cure or prevent any disease.
Market America | SHOP.COM is a global product brokerage and internet marketing company that specializes in one-to-one marketing and is the creator of The Shopping Annuity®.