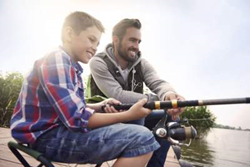 The Wild Harvest Initiative® is not a project, but a narrative changing program.
ST. JOHN'S, Newfoundland (PRWEB) August 06, 2019
Conservation Visions is announcing a new partnership with North America's premier outdoor and conservation company Bass Pro Shops in support of the Wild Harvest Initiative®, a research-based program designed to communicate the combined economic, social, and conservation value of recreational wild animal harvests in the United States and Canada. The program will address many questions such as: How many pounds of food are procured through hunting and angling? How much of this food is shared with family and friends? How much would it cost to replace this food, not just in dollars and cents, but ecologically? By exploring sustainable use of wildlife in the contexts of food security, human health and fitness, wildlife and habitat conservation, animal health and welfare, ecological and environmental concerns, and economic prosperity, the program will provide evidence of the wider benefits of wildlife and wild animal harvest to the public.
"The Wild Harvest Initiative® is not a project, but a narrative changing program. It is not a finite intervention, but a relentless innovation. It does not seek to change society; it takes energy from society's culture of change." says Shane Mahoney, Conservation Visions' CEO and originator of the Wild Harvest Initiative®. "We are delighted to welcome Johnny Morris, one of America's foremost conservation leaders, and Bass Pro Shops to our Partnership Alliance and look forward to doing great things together."
Guided by the visionary leadership of founder Johnny Morris, Bass Pro Shops works with leading conservation organizations to positively shape the future of the outdoors and all who love it for generations to come.
"We're extremely proud to support the Wild Harvest Initiative® alliance and its efforts to educate on the positive impact of hunters and anglers," said Bass Pro Shops senior director of conservation Bob Ziehmer.