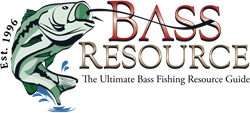 SEATTLE (PRWEB) March 22, 2021
The Ultimate Bass Fishing Resource Guide, the oldest bass fishing website in existence, is celebrating a quarter century of digital innovation in 2021 by asking fans throughout the world to weigh in on the Top-25 bass fisheries across the globe.
The list will celebrate the best bass fishing waters the world has to offer, and introduce anglers of all levels to bucket list big-fish locations as well as favorite local hotspots.
Through March 28 on the immensely popular BassResource.com forums, anglers can submit their favorite fisheries for consideration, share photos of their favorite honey holes, and vote on nominations. The final list will be determined by BassResource anglers worldwide, and released in early April for millions of bass anglers to explore their next fishing destination as they look ahead to the next 25 years of fishing with BassResource.com.
To learn more about the BassResource anniversary and cast your vote by March 28, visit http://www.bassresource.com.
About The Ultimate Bass Fishing Resource Guide
BassResource.com launched in 1996, and features daily videos, articles, news reports, fishing tackle reviews, and the world's most popular bass fishing forums. Since its inception, BassResource has grown to become one of the largest players in the digital marketing industry, attracting millions of avid anglers every year.