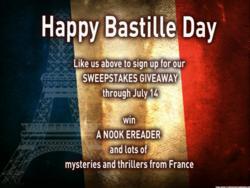 Bastille Day is around the corner. What about a good France-related read? A mystery set in Paris?
New York, NY (PRWEB) July 11, 2013
July 14 is Bastille Day in France, and Le French Book is celebrating. This ebook-first publisher focuses on fiction in translation from France, with a special emphasis on the country's top-selling mysteries and thrillers. To mark the date, it is running Bastille Day Sweepstakes for an ereader and a number of summer ebook reads with a French flair.
"With our focus on entertaining reads from France, we couldn't miss out on this Bastille Day opportunity to share what we are doing with new readers," says Anne Trager, the company's founder. She started Le French Book with the goal of sharing what she loves about the Gallic nation and its fiction.
To celebrate, Le French Book is offering up:

An ereader. The top prize is a Nook ereader with ebook titles from its mystery and thriller collection.
Suspense and authentic police procedure in Paris with ebook copies of The 7th Woman by Frédérique Molay. In this "taut" and "lightning-quick" thriller, readers get to go to the French capital for "a slick, highly realistic, and impeccably crafted thriller."
Secrets and mystery in French countryside with ebook copies of The Paris Lawyer by Sylvie Granotier, a psychological thriller set between the sophisticated corridors of the Paris courts and a small backwater in central France, where rolling hills and quiet country life hide dark secrets.
A perfect summer wine and crime whodunit, with ebook copies of Treachery in Bordeaux by Jean-Pierre Alaux and Noël Balen. This wine novel immerses readers in French countryside and gourmet attitude with two amateur sleuths gumshoeing around Bordeaux wine country.
An adrenaline-pumping thriller for Bond lovers with ebook copies The Bleiberg Project by David Khara. A World War II conspiracy resurfaces today in this fast-paced read that was an instant success in France.
The sweepstakes run from July 11 through July 14.
People can enter via Facebook here: https://www.facebook.com/lefrenchbook
Or directly here: http://www.lefrenchbook.com/bastille-day-sweepstakes/
Click here for a Bastille Day short story by seven of France's top writers.
About Le French Book
Le French Book (http://www.lefrenchbook.com) is a New York-based digital-first publisher specialized in great reads from France. Founder Anne Trager says, "There is a very vibrant, creative culture in France, and the recent explosion in e-reader ownership provides a perfect medium to introduce readers to some of these fantastic French authors." The company's motto is "If we love it, we'll translate it."
©2013 Le French Book, Inc. All rights reserved. Information is subject to change without notice.