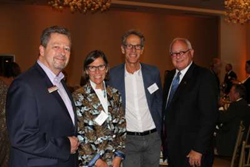 SAN DIEGO (PRWEB) November 05, 2018
On Wednesday, October 17, 2018, Bastyr University hosted its first of many special events in celebration of the University's 40th anniversary. Bastyr University California hosted more than 140 special guests at a dinner celebration in the ballroom of Coasterra Restaurant. During the event, Bastyr University President Harlan Patterson thanked and honored Dr. Mimi Guarneri, internationally recognized interventional cardiologist, and Ruth Westreich, philanthropist and integrative medicine strategist, for the pivotal roles they played in Bastyr's decision to locate its California campus in San Diego.
Attendees were privileged to hear from Bastyr founder Joseph E. Pizzorno, ND, who shared memories of the University's establishment and first campus in Seattle, Washington. The dinner was also a fundraising opportunity for student scholarships and raised a record-setting $227,000.
"We are beyond grateful for the support, collaboration and fundraising efforts for our San Diego campus," said President Patterson. "Now in our 40th year, 2018 has already been a time of tremendous change and growth, and Bastyr University is proud to be at the forefront of the naturopathic medicine movement."
The 40th anniversary celebratory events will culminate with the annual Founder's Day Dinner and Gala in Seattle, Washington, on Saturday, November 17.
Pictured above (from left to right): Bastyr University President Harlan Patterson; Bastyr Board Member Barbara Wright, pictured with her spouse, Charlie Wright, both longtime friends and supporters of the University; Bastyr President Emeritus Dr. Daniel K. Church.
About Bastyr University:
Bastyr is a nonprofit, private university offering graduate and undergraduate degrees, with a multidisciplinary curriculum in science-based natural medicine. Recognized globally for its rigorous curriculum and strong research, the University has a primary campus in Kenmore, Washington, and a second campus in San Diego, California. Bastyr's international faculty teaches the natural health sciences with an emphasis on integrating mind, body, spirit and nature. A pioneer in natural medicine since its inception, Bastyr continues to be at the forefront in developing the model for 21st-century medicine.
For more information, please visit: http://www.bastyr.edu/
EDITOR'S NOTE: For more information about Bastyr or to arrange to speak with a company spokesperson, please contact Nancy Trent or Pamela Wadler at 212-966-0024 or pam(at)trentandcompany.com.