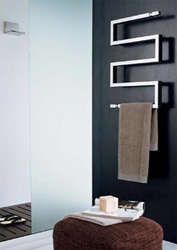 Towel warmers and heated floors not only heat what they immediately touch, but can also help raise the ambient temperature of the bathroom without turning up the main thermostat.
(PRWEB) January 22, 2014
HomeThangs.com – the Online Home Improvement Store has made their goal to deliver the right product to the consumer. With that in mind, shopping and home design tips, as well as special product selections are being introduced.
There's nothing worse than walking into a cold bathroom on a cold morning, especially right after crawling out of a warm bed. Frigid tile floors, a cold toilet seat, and ice cold water in the shower can all conspire to make for a rather unpleasant start to a cold winter's day. HomeThangs.com has introduced a guide to a few great ways to help combat the cold and quickly heat up a bathroom first thing in the morning.
Towel Warmer
Installing a towel warmer is the single easiest and most effective way to ensure a bathroom is nice and toasty warm first thing in the morning. These use a minimum of electricity and essentially act as safe, affordable 24 hour space heaters that can noticeably raise the temperature of the whole bathroom. Towel warmers circulate heated liquid inside the metal bars, warming them as well as the surrounding air. Electric towel warmers are self contained and can be installed in almost any space (some models can even be plugged into a nearby outlet rather than wired in), but hydronic towel warmers are designed to replace existing radiator and can't be installed without an existing radiator system.
Heated Floors
Installing heated flooring is the best way to ensure a bathroom floor will be warm to the touch, no matter what the weather, and like towel warmers, they can also raise the ambient temperature of the room. Typically achieved by installing a fine mesh underlayment beneath a tile floor, this is a project that needs to be done as part of a larger renovation. That said, they offer a great return on the investment and don't cost much to use, so this is definitely a project to splurge on.
Heat Lamp
Installing a heat lamp is another great way to help warm up a cold bathroom on a chilly morning. Typical models use all the same hookups as a standard lighting fixture, so can easily replace an existing ceiling mount light, though they may require a larger switch plate. Depending on the design, these have a built in heating element and sometimes a fan (to circulate heat) and can noticeably raise the temperature of the bathroom.
Heated Toilet Seats/Bidets
Perhaps the worst thing about really cold weather is having to sit on a cold toilet seat first thing in the morning or – worse – in the middle of the night. But these days, many high tech luxury toilet seats come with built in temperature controls. That's right, heated toilet seats that install just like a standard seat, though some models will need to be hooked up to the water line and a nearby outlet. As a bonus, many heated toilet seats include warm water bidets and warm air driers for an even more luxurious experience.
Point Of Use Water Heater
The farther a bathroom is from a water heater, the longer it takes the water to heat up, which can be especially painful on a really cold day. Point of use water heaters can eliminate this problem entirely, heating the water with electricity just a few feet away from the bathroom tap or shower. These small electric boxes fit in the back of a bathroom vanity, and provide instant and infinite hot water for the tap and/or shower.
Steam Shower
Steam showers are fast becoming a must-have spa feature in high end bathroom remodels, but can be a bit involved to install. The steam generator itself is about the size of a bread box and can be installed anywhere within 25 feet of the shower, producing thick, velvety steam within about a minute while using significantly less water than a standard shower. But the shower itself will need to be steam tight and fairly waterproof, which can be a somewhat involved renovation.
For more information about warming up a cold winter bathroom, check out the full article here.
HomeThangs.com is not only a home improvement superstore, it also provides expert design tips and a comprehensive shopping guide, taking the ideas from professional interior designers, and offering tips to the consumers on how to pick the products to best suit their needs.