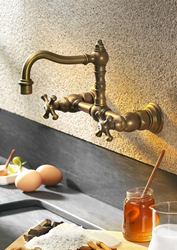 The biggest complaint about wall mounted faucets is that they can be much more prone to splashing, which arises from the fact their installation requires quite a bit more guesswork.
(PRWEB) March 11, 2014
HomeThangs.com – the Online Home Improvement Store has made their goal to deliver the right product to the consumer. With that in mind, shopping and home design tips, as well as special product selections are being introduced.
Wall mounted faucets are an old fashioned feature that's starting to see renewed life in both the kitchen and the bathroom. These sleek faucets run the gamut from old fashioned farmhouse style to extremely minimalist and modern, and because they're not as common as they once were, they have a very elegant, designer feel. But installing a wall mounted faucet can be much more difficult than installing a more common deck mounted sink, and HomeThangs.com has introduced a guide to understanding and overcoming some of these challenges.
Spacing
Standard faucets are usually one of the last things installed in a major remodel, but wall mounted faucets have to be installed at the very beginning of construction when the wall is still exposed. From the very earliest stages, all the materials for the sink, faucet, and surrounding wall need to be on hand to get the closest estimate possible before any installation happens. Wall mounted faucets also have to be installed in between two wall studs, so if the studs on the wall behind the sink don't line up properly, they'll have to be moved.
Height
There's no set standard for how high to install a wall mounted faucet; by and large, the height will be an estimation made very early in the renovation. Legally, the tip of the nozzle must be at least one inch above the level of the sink, and generally a little higher than that is more comfortable to use, but much higher and the faucet will be more likely to splash.
Length
Wall mounted faucets come in a few different lengths – typically 6, 9, or 12 inches long – to accommodate both a variety of sinks and a variety of installation settings, which means it's very important to pair the faucet with the sink. And remember, wall mounted faucets have to clear not only the rim of the sink but also any distance between the wall they're mounted on and the sink, so be sure to account for this extra distance.
Splashing
Probably the biggest complaint about wall mounted faucets is that they can be much more prone to splashing. Balancing the right height, depth, and alignment of a wall mounted faucet can be quite difficult, especially when it's being used with an unusual or above-counter sink. Install the sink just a little too far in any one direction and when it's turned on the water will hit the curve of the sink at the wrong angle, causing it to splash and spatter.
Insulation
Installing a wall mounted faucet on an exterior wall presents its own unique set of issues. In a colder climate, the plumbing is much more exposed to the elements and can be more susceptible to freezing. It's important to take steps to ensure that all the hardware is properly insulated.
Reach
Wall mounted faucets are set farther back than standard faucets. While this might seem trivial, the difference can be several inches, which means it requires a longer reach to use, making it a less desirable for sinks that will be used by small children. Combined with a very large kitchen sink, the few extra inches to the handle can even make this setup uncomfortable for a smaller adult to use.
Replacement
Replacing a standard faucet is extremely simple, but because wall mounted faucets are built directly into the wall, they can't be removed without tearing out at least a portion of the wall – and the same goes for repairs. A very high quality, solid brass faucet will last longer, but one from a reputable, well-known company that readily supplies replacement parts can mean the difference between being able to repair a faucet and having to replace a whole wall.
Installing a wall mounted faucet is challenging but not impossible. For more tips on how to get this look, check out the full article here.
HomeThangs.com is not only a home improvement superstore, it also provides expert design tips and a comprehensive shopping guide, taking the ideas from professional interior designers, and offering tips to the consumers on how to pick the products to best suit their needs.