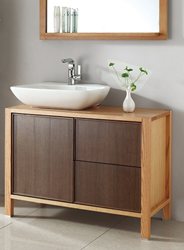 The vast majority of bathroom vanities have sinks placed squarely in the middle. Even on a small bathroom vanity, offsetting the sink means having a lot more wiggle room in terms of positioning without having to reroute the plumbing connections.
(PRWEB) October 23, 2014
HomeThangs.com – the Online Home Improvement Store has made their goal to deliver the right product to the consumer. With that in mind, shopping and home design tips, as well as special product selections are being introduced.
It can be more than a little difficult to change the layout of a bathroom. Most fixtures can't be moved at all without rerouting the plumbing, which is a huge headache in its own right. The one big exception is the bathroom vanity. Asymmetrical bathroom vanities with offset sinks make it possible to install a new vanity that's a very different size or shape from the old one and have it still link to the existing plumbing. HomeThangs.com has introduced a guide to a few of the perks of this unusual option, as well as how to make it work in a variety of different bathroom remodels.
Moving the sink on a bathroom vanity away from the center means the vanity itself doesn't have to be centered directly on the plumbing. In a small bathroom, that might mean being able to shift the vanity six inches or a foot to one side or the other, making room for an added storage cabinet or shelves. In a larger space, it can mean significantly opening up new options for the layout of the whole bathroom by creating more than a foot of added wiggle room.
Single piece asymmetrical bathroom vanities tend to be on the small side, ranging from 30" to about 48". But modular options can be much larger, making it possible to more accurately customize the cabinet to fit the available space, all without changing the existing plumbing at all. Modular bathroom vanities can be more or less asymmetrical, and can have unique add-on features like makeup stations or extra sets of drawers.
Regardless of the size, bathroom vanities with offset sinks tend to have more and more accessible storage space. Because the plumbing for the sink is offset inside the cabinet, there's room to install drawers – even in very small bathroom vanities – that standard vanities simply don't have. They also have more usable counter space up top, because it's all on one side rather than bisected by the sink.
For more details about using asymmetrical bathroom vanities in a remodel, check out the full article here.
HomeThangs.com is not only a home improvement superstore, it also provides expert design tips and a comprehensive shopping guide, taking the ideas from professional interior designers, and offering tips to the consumers on how to pick the products to best suit their needs.