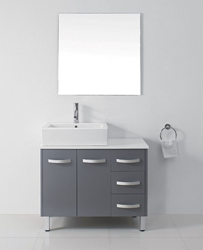 Even on a fairly slim vanity, offsetting the sink combines two unusable strips of countertop into a single usable surface, making it a little easier to spread out and get comfortable.
(PRWEB) April 28, 2015
HomeThangs.com – the Online Home Improvement Store has made their goal to deliver the right product to the consumer. With that in mind, shopping and home design tips, as well as special product selections are being introduced.
One of the most difficult things to incorporate into a small bathroom is surface space. While it's possible to incorporate storage onto (or even into) the walls, spare counter space is a lot harder to come by, especially in bathrooms with scaled down vanities and no room for a freestanding storage cabinet. But HomeThangs.com has introduced a guide to one surprisingly simple option: offsetting the bathroom sink.
In almost all bathroom vanities, regardless of size, the sink is placed smack dab right in the center of the vanity. This is mostly for the sake of visual symmetry, but this simple, default option actually has a number of major drawbacks, particularly for a small bathroom. Most importantly, when the sink is positioned in the middle of a small countertop, the little strips of surface space left on either side wind up more or less useless. But when the sink is shifted to one side or the other, that worthless leftover space is doubled, and suddenly instead of barely having room to put a toothbrush holder, the vanity actually has some usable counter space.
As an added bonus, when the sink is shifted to one side, so is the plumbing, which means that often vanities with offset sinks also have more drawer storage than traditional vanities that are the exact same size, because the plumbing isn't getting in the way. It's a simple change in layout, but one that means that vanities with offset sinks offer double the benefit for a small bathroom.
To find out more about choosing a vanity with an offset sink, check out the full article here.
HomeThangs.com is not only a home improvement superstore, it also provides expert design tips and a comprehensive shopping guide, taking the ideas from professional interior designers, and offering tips to the consumers on how to pick the products to best suit their needs.