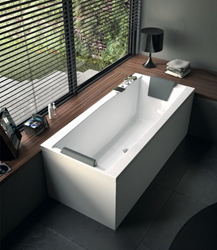 Large whirlpool tubs take longer to fill, require more extensive (and expensive) installation, and almost always mean sacrificing space that could be used to build a luxury shower.
(PRWEB) May 20, 2014
HomeThangs.com – the Online Home Improvement Store has made their goal to deliver the right product to the consumer. With that in mind, shopping and home design tips, as well as special product selections are being introduced.
For a long time, whirlpool bathtubs were the darlings of luxury bathroom design. But in recent years this has started to change in a big way: homeowners and buyers alike are starting to shun big jacuzzis in favor of smaller, simpler tubs. This is because whirlpool bathtubs come with a whole host of drawbacks that are easy to overlook. HomeThangs.com has introduced a simple guide to a few reasons that these bigger bathtubs aren't always better.
Time To Fill
Very big, luxurious whirlpools and soaking tubs take a very, very long time to fill. A tub that's deeper, longer, and/or wider than an average standard bathtub can easily have a capacity that's two or three times greater, if not more. That higher capacity is great for soaking, but it means the tub will take 2-3 times longer, or more, to fill up. This is actually one of the biggest reasons that luxury showers have seen such a rise in popularity: they can be used as soon as the water is turned on, no fill time needed.
Water Capacity/Water Heater
Similarly, a bathtub that can hold all that extra water doesn't come without a cost, both during installation and long-term. Big whirlpool tubs can hold north of 100 gallons of water. Not only will all that water cause a spike in monthly utility costs, it might also mean needing a bigger water heater. Using a water heater with a lower capacity will result in, at best, a tub full of lukewarm water. Upgrading to a larger water heater will provide a piping hot bath, but can significantly raise the cost of the project overall.
Cleaning and Maintenance
Whirlpool bathtubs can also be a challenge to keep clean, because they have a lot of concealed parts where water can pool and promote the growth of mold or mildew. Many modern whirlpool tubs come with self cleaning modes or functionality that will flush out all the pipes and plumbing inside the tub, but even so this is a challenge that's worth considering.
Floor Space Vs. Shower Space
More than ever it's important to consider how space is allotted in a major bathroom remodel, particularly how much space will be dedicated to the tub and how much to the shower. Whirlpools are not only large on their own, but often also require hefty mounts to conceal all the mechanisms. The larger and more complex the tub, the less space there will be for the shower, which is increasingly becoming a major drawback for potential buyers.
Price
Then, of course, there's the issue of price. Adding whirlpool functionality to an otherwise identical soaking bathtub can nearly double the cost. That's the same exact tub from the same manufacturer – same size and shape and design, just with water or air jets. In a design world where showers are much more in vogue, doubling the price of the bathtub is a poor investment, particularly if the whirlpool functionality won't see much use.
What To Do Instead
All that said, every master bathroom needs a bathtub, and to get the most out of one, it's important to try to minimize some of these issues. Look for soaking tubs rather than whirlpools, and seek out tubs that aren't too long or too wide, but that are deep and have pronounced sloped backs, like classic clawfoot tubs. This will help lower the capacity of the tub while still providing a luxurious soaking experience, so the tub won't take as long to fill, will work with a smaller water heater, and will even take up less space.
For more tips on choosing a new bathtub, check out the full article here.
HomeThangs.com is not only a home improvement superstore, it also provides expert design tips and a comprehensive shopping guide, taking the ideas from professional interior designers, and offering tips to the consumers on how to pick the products to best suit their needs.