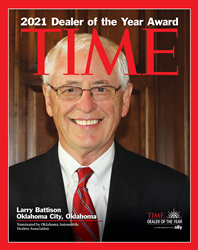 OKLAHOMA CITY (PRWEB) February 19, 2021
Ally, TIME and National Automobile Dealers Association have teamed up once again to recognize the achievements of members in the automotive industry. During this year's awards the groups recognized 40 U.S. dealers, including Larry Battison of Battison Honda in Oklahoma City.
Battison's nomination for this year's award showcases his success at Battison Honda over the last year, as well as his dedication to the Oklahoma City community and automotive business. Battison was nominated for the TIME Dealer of the Year award by Steve Rankin, president of the Oklahoma Automobile Dealers Association.
The Battison Honda dealership serves Oklahoma City and the surrounding area, offering new Honda vehicles and used models from a variety of automakers. Battison Honda also provides local automotive owners with on-site service in its service center and the finance team offers financial expertise.
Battison Honda currently has nearly 200 new Honda models in stock and over 150 used vehicles available at the time of publication. Shoppers around Oklahoma City can search for their next vehicle with confidence at Battison Honda knowing the team has been recognized for its commitment to its customers with the TIME Dealer of the Year nomination.
The Battison Honda dealership is open Monday through Saturday and is located at 8700 NW Expressway in Oklahoma City, OK. Anyone looking for their next vehicle can view the available inventory of models at Battison Honda on the dealership's website, battisonhonda.com. Individuals looking to speak directly with a member of the dealership's staff can contact the Battison Honda team by phone at 405-495-5800.