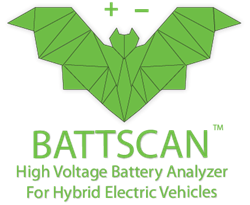 LAS VEGAS (PRWEB) October 30, 2018
Today FutureTech Auto, the leading distributor of aftermarket Vehicle Electrification training, tools, equipment, and support solutions, announced a new High Voltage Battery Analyzer has been added to its product lineup. BATTSCAN, a High Voltage Battery State-of-Health Analyzer for Hybrid Electric Vehicles, is available as a smartphone (and tablet) app that pairs with enhanced CAN bus data on the Data Link Connector (DLC) to analyze the vehicle's battery health. No specialized training is required to use BATTSCAN, which completes its testing and provides a report after a short voice-guided road test.
Technicians who are both new and experienced with Hybrid Electric Vehicle diagnostics and repair can benefit from integrating BATTSCAN into their service offerings. As a tool it removes the guesswork in determining the State-of-Health of a High Voltage battery by providing a simple diagnostic process for analyzing battery modules or cell. As a service, customers who are provided a BATTSCAN analysis can have a better understanding of their vehicle's battery health. Servicing, including maintenance and repair for shops properly equipped, on the vehicle's Hybrid system can be completed with greater accuracy and speed with the added benefit of reducing warranty repairs. Servicing the high voltage battery pack can improve the vehicle's performance, longevity and, fuel economy – a win-win for repair centers and their customers.
BATTSCAN is sophisticated in its operation but simple in the way that it is used. The technician simply inserts the connector into the vehicle's DLC port, links the DLC connector with the BATTSCAN app, and completes a voice-guided hands-free road test. BATTSCAN then analyzes the data, produces a report, and provides recommendations for service.
BATTSCAN's MSRP is $998.00, and includes a DLC connector, data streamer, a storage bag, a window cling to advertise the service, and a 1-year license to the diagnostic service app and database. Like other electronic tools used in automotive service and repair, BATTSCAN license subscriptions are renewed on a yearly basis.
Automotive service professionals who are interested in seeing more about BATTSCAN can visit booth 4450 at AAPEX during October 30-November 1, which it shares with distributor DC Battery Hub. For those who cannot make it to AAPEX, more information is available at http://www.batt-scan.com.
About FutureTech Auto:
FutureTech Auto is a global supplier of Vehicle Electrification (VE) technology solutions to all automotive, transportation and, educational markets. Our comprehensive and scalable solutions include Hybrid & Electric Vehicle diagnostic tools and software, hands-on training, on-demand training, support systems and, aligning clients with qualified VE professionals for consulting and special projects. Our highly qualified network of suppliers, affiliations and, partners encompasses over 32 years of commercial experience focused in Vehicle Electrification education and development of products to support VE systems and technologies.