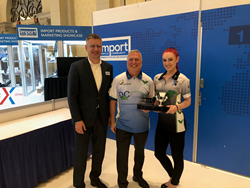 BATTSCAN was developed by QTS, LLC, brought to market by FutureTech Auto, and authorized for distribution from DC Battery Hub.
LAS VEGAS (PRWEB) November 01, 2018
After making its market debut at the 2018 AAPEX show in Las Vegas, the BATTSCAN High Voltage Battery Analyzer has won Import Vehicle Community's award for Best New Product. BATTSCAN is an app-based product that analyzes the State-of-Health (SOH) of a Hybrid Electric Vehicle's High Voltage Battery after a technician takes the vehicle on a quick voice-guided road test.
BATTSCAN is used by automotive service centers in diagnosing and repairing hybrids, such as the Toyota Prius. It validates whether a battery needs service, and which modules require attention. As a service, it helps identify opportunities to perform maintenance and service that could improve vehicle performance and fuel economy.
BATTSCAN was entered for the award by its authorized distributor DC Battery Hub, which is a member of Import Vehicle Community and the Autocare Association. The award was accepted by Dave Callari, the owner of DC Battery Hub and Ariel Quarto, the Executive Vice President of Marketing for FutureTech Auto. DC Battery Hub is showcasing BATTSCAN with its remanufactured Hybrid battery products at AAPEX booth 4450.
The MSRP for BATTSCAN is $998.00 and includes a Data Link Connector (DLC), storage bag, window cling to advertise the service, and 1 year of access to the BATTSCAN software database. More information about this and other products can be found at http://www.batt-scan.com and http://www.dcbatteryhub.com.
ABOUT FUTURETECH:
FutureTech Auto is a global supplier of Vehicle Electrification (VE) technology solutions to all automotive, transportation, and educational markets. Our comprehensive and scalable solutions include Hybrid & Electric Vehicle diagnostic tools and software, hands-on training, on-demand training, support systems, and aligning clients with qualified VE professionals for consulting and special projects. Our highly qualified network of suppliers, affiliations, and partners encompasses over 32 years of commercial experience focused in Vehicle Electrification education and development of products to support VE systems and technologies.
ABOUT DC BATTERY HUB:
DC Battery Hub is a supplier of superior quality Hybrid Electric Vehicle Battery Packs. Our commitment to providing the automotive aftermarket with industry-leading Hybrid batteries is rooted in the principles of a sound rebuilding process, exceptional customer service, and a superior product. We strive to serve our customers efficiently, effectively, and with a low-cost and environmentally low-impact alternative to factory-new hybrid batteries.