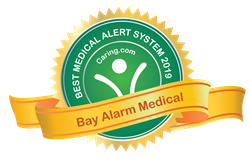 SAN MATEO, Calif. (PRWEB) March 21, 2019
Caring.com, the nation's most visited website for senior living reviews, has named Bay Alarm Medical to its list of top medical alert systems for 2019. The medical alert provider was recognized as the Best for Customer Service and Low Monitoring Costs.
Bay Alarm Medical was one of fourteen companies that qualified for the list based on its demonstration of excellent customer service, transparency and affordability. With a variety of medical alert systems on the market, this list was developed to help seniors and their loved ones easily identify those with the highest overall value. As a part of the review process, Caring.com also identified key features to look for in a system such as waterproofing, fall detection technology, location monitoring and mobile help button.
"Everything we do at Bay Alarm Medical is built on our core values of C.A.R.E. – compassion, accountability, respect and ethics," says Andy Ginjupalli, President of Bay Alarm Medical. "This is evident in the quality of our products, our customer service and our 24/7 monitoring capabilities."
According to the CDC, one out of four older adults fall every year with 20 percent of those falls resulting in broken bones or head trauma. A medical alert system enables seniors to get immediate help in the event of an emergency and provides their loved ones with peace of mind. To see the complete list of top medical alerts systems, visit https://www.caring.com/caregivers/best-medical-alert-systems/
"Our goal is to bring innovative and intuitive solutions to market that will not only support seniors to age in place, but also help others with different medical needs to recover at home," explains Andy Ginjupalli.
ABOUT BAY ALARM MEDICAL
For over 12 years, Bay Alarm Medical has offered the best senior life-saving alert systems in the nation. The company works closely with a USA-based monitoring partner to create a network of highly reliable emergency response centers. Both state-of-the-art centers are full duplicates of each other and are located in Ogden, Utah and Rexburg, Idaho. The service provides in-home, mobile GPS, and in-car medical alert options and supports over 170 languages to effectively communicate with non-English or English-as-a-second-language clients. For more information, visit https://www.bayalarmmedical.com/ or call 1-877-522-9633.
ABOUT CARING.COM
With millions of website visitors, Caring.com is a leading senior care resource for family caregivers seeking information and support as they care for aging parents, spouses, and other loved ones. Applying cutting-edge technology to its social mission, Caring.com provides helpful eldercare content for caregivers and comprehensive senior living and senior care directories for the United States -- with more than 200,000 consumer reviews and a toll-free referral line at (800) 325-8591. Connect with Caring.com on Facebook, Twitter, Pinterest, LinkedIn, and/or YouTube. Senior living communities and in-home care agencies may also visit our industry blog for further information: https://partners.caring.com/