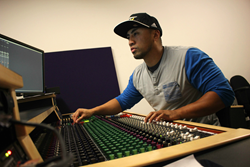 I looked at several schools in the northern California area, but Ex'pression just clicked for me. I went on the tour of the San Jose campus four times and loved every minute of being there.
San Jose, CA (PRWEB) June 24, 2015
Michael Pacis, a sophomore in Ex'pression College's Interactive Audio program, co-wrote and co-produced music that was used by the Golden State Warriors, winners of the 2015 NBA Championship, in their promotional videos.
"The original songs of DMGKNTRL, a three-person music production collective that I'm part of, are the soundtrack in four Warriors' videos, and the response from their fans has been amazing," says Pacis, who's pursuing a Bachelor's Degree in Interactive Audio at the Ex'pression San Jose campus. "Our Facebook views have skyrocketed, and the Warriors posted the clips on their official YouTube and Facebook pages, as well as their mobile device app."
The NBA opportunity came about as a result of a connection that one of the DMGKRNTRL members had with the Golden State Warriors' media department, who liked the group's music so much that they used it in the Warriors' promo videos during the NBA playoffs. The collective's other compositions/productions were used in a video reel for the Warriors' two-time All Star and 2015 NBA Most Valuable Player Stephen Curry, a team video that was used during the playoff finals, and a clip featuring the results of the first NBA championship game against Lebron James' Cleveland Cavaliers.
Pacis was raised in San Jose and graduated from Calaveras Hills High School in Milpitas, CA in 2002. He grew up singing karaoke with his siblings, playing drums in local bands, and forming the popular cover band Pacific Soul. After earning a degree and working as a certified massage therapist, Pacis realized that his heart was in the creative media industry.
"I looked at several schools in the northern California area, but Ex'pression just clicked for me," says Pacis. "I went on the tour of the San Jose campus four times and loved every minute of being there. Nothing makes me happier than taking my courses, developing my passion for music, and being able to share it with the world."
Pacis has formed a club at Ex'pression called SM Collective (SM stands for Share Media). The group comprises students in different majors who collaborate on projects outside of school, including the shooting of a music video and the tracking of vocals for the debut EP of DMGKNTRL.
When Pacis graduates from Ex'pression in 2017, he'd like to enter the video game industry, preferably at EA Sports or Pixar. His long term dream is to run his own media firm that provides all of the production services for a film, game, or music video. In the near future, he'd like to be able to tour the world performing with DMGKNTRL.
"If you follow your dreams and put all your blood, sweat, and tears into your craft, then it will pay off in the end," says Pacis. "The pursuit of success is all about constant and never ending improvement, every single day that's lived."
About Ex'pression
Ex'pression College is a digital arts college in California's San Francisco Bay Area, offering Bachelor of Applied Science degrees in Sound Arts, Interactive Audio, Graphic Design & Motion, Digital Filmmaking, Animation & Visual Effects, and Game Art & Design. Ex'pression's courses are accelerated, class sizes are limited, and the faculty is staffed with experienced industry professionals. At Ex'pression, students use professional-grade equipment and facilities, and receive a hands-on educational experience in working environments that emulate the industries they'd love to be a part of. Ex'pression College was acquired by SAE Institute in 2014.
About SAE
SAE Institute provides aspiring creative media professionals with a foundation of practical theory and valuable hands-on training in their chosen areas of concentration. Under the guidance of our faculty, which is comprised of working industry professionals, students gain the essential experience they need for entry-level jobs in the entertainment business. Our students are supported in their job searches by SAE's international network of alumni, many of whom are leaders in the music, film, game arts, and live performance arenas. We offer programs in audio technology across our seven US campuses, along with a music business program at select locations, all fully accredited and focused on preparing students for employment when they graduate. Bachelor's Degree programs in Animation, Audio, Film, Game Art & Graphic Design are available at the two locations of Ex'pression College, which is owned and operated by SAE Institute Group, Inc. SAE Institute Group, Inc. is a part of Navitas LTD. Learn more at USA.sae.edu.