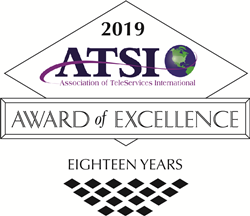 Direct Line continues to lead the industry with top-tier client service and advanced contact center technology.
BERKELEY, Calif. (PRWEB) June 26, 2019
For the 18th consecutive year, Direct Line Tele Response of Berkeley, CA has been honored with the exclusive Platinum Plus Award of Excellence for outstanding client service delivery and advanced contact center technology. The award is presented annually by the Association of Tele Services International (ATSI), the industry's trade association for providers of contact center services including telephone answering, call center services and message delivery.
Direct Line Tele Response was presented with the contact center industry's top award recently at the Association of Tele Services International's 75th Annual Convention and Trade Show held at the OMNI Dallas Hotel in Dallas, TX. Independent judges are contracted by ATSI to evaluate the quality of contact center, answering and call center services over a six month period. The scoring criteria includes:

Response Time
Courteousness of Rep
Accuracy of Call
Knowledge of Account
Overall Impression of Call
"It's an incredible honor to have earned this distinguished award for 18 consecutive years. Based on the internal quality assurance protocols we implement, coupled with the excellent feedback received from our annual client satisfaction survey, we're certain we provide excellence in the caller's experience and to our clients", says Ken Goldenberg, President and Owner of Direct Line Tele Response.
"The ATSI Award of Excellence is a great way for our members and their employees to evaluate how they are providing service to their clients. It enables them to identify the things that make them great and also the areas that they can work on to get better. We have members that have been involved in the program for decades and are very proud each year when they win the award." Says ATSI President, Joseph Pores.
The award was created as a means to improve the overall quality of the contact center industry by setting expectations and measurements to ensure a successful call handling experience.
Now an eighteen-time winner Direct Line Tele Response earned the Platinum Plus Award once again. ATSI extends its congratulations to the staff of Direct Line Tele Response on their proven quality service to their clients and their callers.