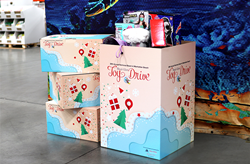 Bay Cities is happy to support the toy drives of Pico Rivera, Manhattan Beach and Hermosa Beach," said Greg Tucker, CEO. He continued, "we are glad that, especially during these times, we are able to make a difference for children with our contributions during the holiday season."
PICO RIVERA, Calif. (PRWEB) December 08, 2020
For the last few years, Bay Cities Packaging and Design has been helping Peter Tucker gather toys for the toy drive in Hermosa Beach and Manhattan Beach. This drive normally begins when the annual Hermosa Christmas Tree Lighting Ceremony takes place, by bringing folks together for a memorable night of fun and entertainment on the pier in Hermosa Beach. This year, that event was unfortunately canceled due to Covid19.
As such, we launched into gear by not only providing toys for the drive but also by designing a display system. Bay Cities designs, manufacturers and packs out point of purchase displays going into retail stores across the country. At the end of every year there is a base of left-over toys and goods that are too small or costly to return and we donate these to various charities.
The display system includes visual merchandising blocks to focus on the specialty dump bin branded for this specific occasion. As there aren't many venues to park donation bins, by complementing the donation of toys with something special like the blocks, this should generate traffic and drive extra donations. The toy drive did launch new "drive through" donation events as the same traffic at our great retailers may be a bit slow due to the virus.
Bay Cities has been supporting Pico Rivera's holiday events for many years. The Pico Rivera Chamber of Commerce had to adjust their approach a bit this year. The Chamber decided to sponsor two non-profit organizations, Casa Santa Fe and AltaMed Families. 25 Families from each individual organization will receive toys and food. Bay Cities donated toys through the Chamber for each of the children of these families.
"Bay Cities is happy to support the toy drives of Pico Rivera, Manhattan Beach and Hermosa Beach," said Greg Tucker, CEO. He continued, "we are glad that, especially during these times, we are able to make a difference for children with our contributions during the holiday season."
About Bay Cities
Bay Cities is North America's most innovative packaging and design company, providing integrated, end-to-end packaging and logistics solutions that are proven to drive sales, both on-shelf and online. Powered by technology and the best people, Bay Cities works seamlessly with brands and retailers to design and deliver product packaging and in-store display programs with ease and accuracy.
###