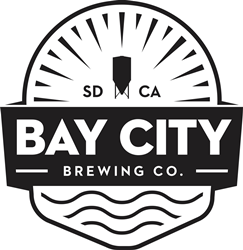 "This new location is a testament to the hard work and dedication of our team over the last few years," said Greg Anderson, co-owner of Bay City Brewing Company. "The fully renovated, historic building features a rooftop bar and event center with an outdoor patio and kitchen on the ground floor."
SAN DIEGO (PRWEB) March 11, 2020
Bay City Brewing Company, one of the fastest growing breweries in the U.S., today announced the opening of a new location in San Diego's East Village. Located at 627 Eighth Avenue in one of the city's oldest buildings, the second location features a restaurant, taproom and rooftop. The public grand opening is set for Monday, March 16th from 11 am to 12 am.
"We opened in Point Loma in 2015 and have been amazed at the brewery's rapid growth," said Greg Anderson, co-owner of Bay City Brewing Company. "This new location is a testament to the hard work and dedication of our team over the last few years. The fully renovated, historic building features a rooftop bar and event center with an outdoor patio and kitchen on the ground floor."
Reasons to visit include:

Spacious Rooftop Bar - a 4,735 square foot indoor-outdoor space with plenty of seating, fire pits, a video wall and downtown views.
Craft Beers on Tap - a seasonal selection of Bay City's finest ales including favorites like 72 and Hoppy, Bay City IPA, Jucci Gang and more.
Delicious Menu - a rotating menu of specialty pizzas, wings, fresh salads and breadsticks.
Dog- and Kid-Friendly - a front patio to enjoy some fresh air with all your children.
Event Space and Private Beer Tastings - a private area on the roof for up to 175 guests with dedicated beertenders to explain the craft behind each pour.
"We are very excited to open the new Bay City Brewing Company and Pizza Kitchen in East Village," said Chad Robley, co-owner of Bay City Brewing Company. "Just a few blocks away from Petco Park, the convention center and Gaslamp district, it's a great place for people to grab a craft beer, eat some great pizza and enjoy the city."
The restaurant will be open on Monday-Sunday from 11 am to 12 am. In addition to public hours, the rooftop venue is available for private event rentals. For more information on the public grand opening, visit https://baycitybrewingco.com/event/east-village-grand-opening-2020-03-16/. To book an event, visit https://baycitybrewingco.com/book-your-event/.
About Bay City Brewing Company
Founded in 2015 by Greg Anderson and Benjamin Dubois, Bay City Brewing Company produces a dozen or more beers, including seasonal options. In 2017, the brewery was selected by the San Diego Tourism Authority to produce San Diego's first official beer, "72 and Hoppy." Later that year, Bay City was named the 28th fastest growing independent craft brewer in the nation by the Brewers Association, a non-profit trade group.
Follow us on social media:
Instagram: @BayCityBrewing
Facebook: @BayCityBrewingCo
Twitter: @BayCityBrewing
Contact
Mindgruve
Katie Sheriff, 831-233-2348
ksheriff@mindgruve.com