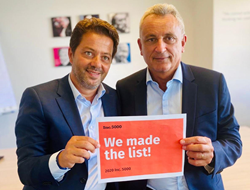 To be honored is a testament to our continued commitment to lead the market. The success of our clients underscores our commitment to delivering Salesforce best-in-class industry-cloud software for our customers and partners. said Alain Attias, CEO of BayBridgeDigital
NEW YORK (PRWEB) September 04, 2020
Inc. magazine revealed that BayBridgeDigital is No. 586 on its annual Inc. 5000 list, the most prestigious ranking of the nation's fastest-growing private companies. The list represents a unique look at the most successful companies within the American economy's most dynamic segment—its independent small businesses. Intuit, Zappos, Under Armour, Microsoft, Patagonia, and many other well-known names gained their first national exposure as honorees on the Inc. 5000.
"We are thrilled to be recognized as one of the fastest-growing companies in America and privileged to be included on the Inc. 5000 list " said Alain Attias, CEO of BayBridgeDigital. "To be honored is a testament to our continued commitment to lead the market. The success of our clients underscores our commitment to delivering Salesforce best-in-class industry-cloud software for our customers and partners."
The company was founded in 2017, and it is headquartered in New York with offices in Paris, London, and its technology Hubs in Tel Aviv and Ukraine. The innovative software company operates through a new hybrid model. It helps companies in diverse industries throughout their digital transformation journey by providing a plethora of cutting edge services, including e-commerce, digital marketing, mobile solutions, business insights and analytics, and artificial intelligence.
As a Salesforce Consulting & ISV Partner, BayBridgeDigital is one of the fastest growing companies in the ecosystem. Leveraging their expertise in Salesforce and other technologies, BayBridgeDigital developed Bayretail™ , a state-of-the-art mobile and cloud software that brings businesses to the New Retail Era by providing a 360° view of their customers and their teams as well as a unified commerce platform. As more and more retailers attempt to capitalize on the digital transformation age, BayBridgeDigital is ahead of the curve by providing the best digital solutions for retailers with Bayretail™. BayBridgeDigital believes in unifying content, data, and experience to help their clients achieve maximum ROI through superior customer experiences.
"Our rapid and sustained growth can be attributed to our innovative hybrid model, delivered via structured methodologies by the most experienced digital operations thought leaders in the business and our know-how of industry-focus applications on the Salesforce platform." said Alain Attias. "We are deeply committed to finding the best solutions that work for your specific business."
The 2020 Inc. 5000 achieved an astounding three-year average growth of over 500 percent, and a median rate of 165 percent. The Inc. 5000's aggregate revenue was $209.7 billion in 2019, accounting for 582,741 added jobs over the past year.
"The Inc. 5000 list stands out where it really counts" says Inc. President and Editor-In-Chief Eric Schurenberg. "It honors real achievement by a founder or a team of them. No one makes the Inc. 5000 without building something great – usually from scratch. That's one of the hardest things to do in business, as every company founder knows."
Methodology
The 2020 Inc. 5000 is ranked according to percentage revenue growth when comparing 2016 and 2019. To qualify, companies must have been founded and generating revenue by March 31, 2016. They had to be U.S.-based, privately held, for profit, and independent—not subsidiaries or divisions of other companies—as of December 31, 2019. (Since then, a number of companies on the list have gone public or been acquired.) The minimum revenue required for 2016 is $100,000; the minimum for 2019 is $2 million. As always, Inc. reserves the right to decline applicants for subjective reasons. Companies on the Inc. 500 are featured in Inc.'s September issue. They represent the top tier of the Inc. 5000, which can be found at http://www.inc.com/inc5000.
About Inc. Media
The world's most trusted business-media brand, Inc. offers entrepreneurs the knowledge, tools, connections, and community to build great companies. Its award-winning multiplatform content reaches more than 50 million people each month across a variety of channels including websites, newsletters, social media, podcasts, and print. Its prestigious Inc. 5000 list, produced every year since 1982, analyzes company data to recognize the fastest-growing privately held businesses in the United States. The global recognition that comes with inclusion in the 5000 gives the founders of the best businesses an opportunity to engage with an exclusive community of their peers, and the credibility that helps them drive sales and recruit talent. The associated Inc. 5000 Conference is part of a highly acclaimed portfolio of bespoke events produced by Inc. For more information, visit http://www.inc.com.
For more information on the Inc. 5000 Conference, visit http://conference.inc.com/.
About BayBridgeDigital:
BayBridgeDigital is an innovative global consulting company. Headquartered in New York with offices in Paris, London and its technology Hub in Tel Aviv, BayBridgeDigital helps companies in diverse industries on what they do best through an ever-evolving suite of digital transformation services including e-commerce, digital marketing, mobile solutions, business insights and analytics, artificial intelligence, Salesforce integration, software development, and digital transformation. BayBridgeDigital is a leading provider of retail-specific cloud and mobile software, driving digital transformation for the world's largest companies. BayBridgeDigital is an "industry cloud" pure-player specialized on Salesforce, the world's #1 CRM provider.