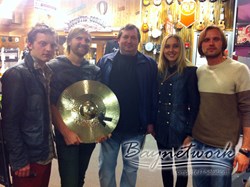 The Russian LGBTI community is facing an increase of harassment, arrest and violence.
Menlo Park, CA (PRWEB) February 04, 2014
The human rights controversy revolving around the LGBTI community has come front and center to the world as we near the 2014 Sochi Olympics. Four lifelong Belarusian friends (Anna Makovchik, Yoga Shyp, Mikalai Skrobat & Vlad Kukharchuk) who make up the San Francisco based indie-pop-rock band Kiwi Time, have voiced themselves about human rights and recognize the opportunity they have while being able to make music in the United States.
Thanks in part to sponsorship from Baynetwork Kiwi Time performed last month in San Francisco's Great American Music Hall which drew over 400 attendees. It was half way through the set during the Great American Music Hall show where Kiwi Time made announcement for their support and donation to the UpRisingOfLove.org campaign.
"We're grateful to share our music with you at the Great American Music Hall, and we're also very happy to help a cause that needs the attention of the world.
Many of you may know, the Russian LGBT community is facing an increase of harassment, arrest and violence.
To bring attention to these injustices and raise awareness we will be donating our proceeds from tonight's show to the organization, Uprising of Love, a coalition whose mission is to give Russian LGBT activists and supporters a voice and provide financial aid to fight discrimination." Anna Makovchik, Singer, Kiwi Time
Based on the movement and focus of UpRisingofLove.org and Baynetwork, Inc.'s consistent philanthropic efforts, the Baynetwork, Inc. team saw the outpouring success at the recent concert and decided to double the proceeds with a match donation through Granted Access Studios by Baynetwork.
About Kiwi Time
KIWI TIME is a San Francisco band consisting of four childhood friends who grew up in a small town in Belarus, Eastern Europe. Now, years later they have come together fusing up-beat, momentous, American indie dance-rock with a touch of East European flavor.
Recent winners of Stoneski Battle of the Bands 2013, the ArtRockX band competition and finalists of Hard Rock Rising, KIWI TIME has become well acquainted with their new San Francisco surroundings. In the past two years they have played more than 60 shows and festivals in the San Francisco Bay Area, Los Angeles and New York City.
About Granted Access Studios
Granted Access Studios (GAS) by Baynetwork, Inc. is a San Francisco Bay Area based media production studio that offers forward thinking opportunities for artists to develop their talent and brand. Granted Access Studios goes beyond PR & marketing an nurtures artistic vision through tech savvy, group knowledge and a kick-ass facilities.
About Baynetwork, Inc.
Since 1997, Baynetwork, Inc. a premier re-seller of new, pre-owned, refurbished and used network hardware equipment, used Cisco Routers, Juniper Switches, Dell Servers, Barracuda Firewalls, Ixia Testing Equipment, ShoreTel VoIP and many other premier IT hardware brands, has helped define and shape the secondary market in the IT network equipment industry. From complete network design and configuration to security analysis and private cloud deployment, Baynetwork's array of managed IT services and rapid product procurement help thousands of companies deliver digital media and content across the globe with reduced costs and shortened lead-times. Baynetwork services also include IT network asset recovery, enterprise network security, data center IT hardware replacement, and network equipment repair.
The names of actual companies and products mentioned herein may be the trademarks of their respective owners.
For more information, press only: Jason E. Sutherland, Marketing Director, (650) 561-8145, jason.sutherland(at)baynetwork(dot)com
For more information on Baynetwork, Inc.: http://www.baynetwork.com