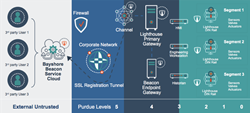 Andres, Toby, and Vincent are leading the product architecture, design, and implementation efforts for the whole company. --Kevin Senator, CEO
DURHAM, N.C. (PRWEB) October 04, 2018
Bayshore Networks, the leading provider of OT security policy monitoring and enforcement, announced today the promotion of three employees to the Senior Leadership Team, effective immediately. Andres Andreu becomes Chief Technology Officer; Toby Weir-Jones becomes Chief Product Officer; and Dr. Vincent Turmel becomes VP Field Engineering, as Bayshore continues its aggressive trajectory towards a market-leading position in the OT cybersecurity space for 2019.
"Bayshore's existing products have been selected by customers in numerous competitive evaluations for the most demanding industrial environments, but we recognized an opportunity to pursue a significant expansion of our capabilities in 2019," said Kevin Senator, CEO of Bayshore Networks. "Andres, Toby, and Vincent are leading the product architecture, design, and implementation efforts for the whole company, as well as formulating a new go-to-market strategy which will ensure managed service providers and complex vertically-integrated corporate users don't need to mix and match solutions from multiple vendors to achieve maximum real-time OT policy controls for monitoring, alerting, and enforcement."
The first solution – Beacon for OT Secure Remote Access – has already launched, and the completely re-imagined flagship product, Lighthouse, will be shown publicly at S4x19 in Miami, FL, in January 2019. Existing customers will be entitled to a migration to Lighthouse under the terms of their existing licensing agreements. Finally, a software-based data diode solution, Channel, will be brought to market shortly after the Lighthouse launch to ensure end-to-end coverage for OT activity and policy, no matter if that takes place inside a production environment, on the interface between OT and corporate IT, or external to the corporate footprint altogether.
Andres Andreu, Chief Technology Officer, has over 20 years of hands-on dynamic security architecture and engineering experience, including extensive backgrounds in SCADA/ICS, web services security/integration, and federated ID technology. He is also the author of a number of open source projects, including yextend, I7secassay, WSFuzzer, and SSHA Attack, and has spoken professionally to a number of public and classified US and global audiences. Andres has served as Bayshore's VP of Engineering for the past six and a half years and is personally responsible for approximately three quarters of the core technology in use in the company's product set.
Toby Weir-Jones, Chief Product Officer, has spent the past 20 years working in enterprise security product management, systems engineering, and technical marketing functions across the managed security service, telephony, IoT, and industrial sectors. As one of the founding employees of Bruce Schneier's Counterpane Internet Security, Toby helped the business through its acquisition by British Telecom in 2006 and onwards until 2013. Since then he has worked on Blackphone, a revolutionary privacy-oriented mobile handset; a telematics-based IoT SaaS infrastructure for CalAmp Inc., and joined Bayshore earlier in 2018 to refocus its roadmap and drive the new three-tiered product strategy to market.
Dr. Vincent Turmel, VP Field Engineering, has over 20 years' experience in process automation and cybersecurity. He has been with Bayshore since 2016 and was previously with Siemens Industry Inc. where he held roles in application engineering, product management and consulting in industrial automation and ICS security. During this time Vincent advised major corporations on automation, control systems architecture and security. He has led ICS security assessments ranging from the unit of a plant to global programs involving many sites. He holds a PhD in Control Engineering from Liverpool John Moores University, UK.
"Andres, Toby, and Vincent are world class executives driving our efforts to global leadership," said Alberto Yépez, Co-Founder and Managing Director of ForgePoint Capital and lead investor in Bayshore Networks. "We are thrilled with the pragmatic approach to bringing well architected, easy to deploy solutions to solve critical problems for the Industrial IoT and Industrial Control Systems."
About Bayshore Networks
Bayshore Networks® is a leading provider of industrial cyber protection. The Company's award-winning technology unlocks the power of the Industrial Internet of Things (IIoT), providing enterprises with visibility into their Operational Technology infrastructure while safely and securely protecting ICS systems, industrial applications, networks, machines, and workers from cyber threats. For more information, visit http://www.bayshorenetworks.com.