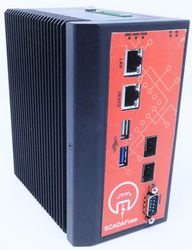 Heralded by industry leaders and priced from $2495, SCADAFuse is available direct from Bayshore and through its new distribution partners.
DURHAM, N.C. (PRWEB) May 13, 2019
Bayshore Networks, a Frost & Sullivan 2018 North America Customer Value Leadership award winner and Network World Top-10 IoT Security Startup, today announced the release of SCADAFuse™, a turnkey inline protection tool for critical assets on industrial networks.
SCADAFuse is installed on the network connection in between protected assets, such as PLCs and SCADA/DCS endpoint devices, and the workstations and other controllers which interact with them. SCADAFuse uses a standard set of real-time network security controls to ensure the activity touching protected assets is both originating from known sources and comprised of permissible content.
"SCADAFuse takes Bayshore's core OT learning and policy engine technologies, which have been in production in mission-critical applications for over six years, and makes them available to a much larger customer base through its combination of significant security benefits, ease of installation, and attractive price points," said Kevin Senator, CEO of Bayshore Networks. "Customers around the world can take advantage of the same technology which has protected aerospace manufacturing, critical energy generation and transmission, and some of the largest multinational telecom networks since 2012."
SCADAFuse uses dedicated USB cryptographic keys to restrict access to authorized users for initial setup and configuration, and includes a native bypass capability on its network connections to ensure network traffic is uninterrupted in the unlikely event of a device failure. A single SCADAFuse Premium can protect up to 5 PLCs and authorize up to 30 source devices, across a combination of modbus, Ethernet/IP, and Siemens S7 protocol activity, with more coming soon. Best of all, every SCADAFuse can report alerts natively to a customer's existing HMI via a built-in modbus slave.
"When I first heard about SCADAFuse, I thought it was a killer solution for the market," said Marty Edwards, former Director of the Industrial Control Systems Cyber Emergency Response Team and member of Bayshore's Technical Advisory Board. "ICS cybersecurity vendors have focused on the biggest, most complex opportunities, but the vast majority of industrial networks – in manufacturing, regional utilities, oil and gas, and power – do not have the luxury of huge ICS analyst staffing and vertically-integrated operational security. Bayshore is uniquely positioned to enable immediate access to world-class protection tools for infrastructures of any size."
In addition to the SCADAFuse launch, Bayshore Networks is pleased to announce two new additions to its list of certified distribution partners. AutomaTech, Inc. offers coverage in both the northeastern United States and, via its CB Pacific affiliate in Seattle, the west coast, and Graymatters LLC offers coverage in both the United States and Canada. Both companies' long histories and large established customer bases make them ideally suited as launch distributors for SCADAFuse.
"We immediately saw the unique benefits offered by Bayshore as a complement to our existing ICS security partners," said Tom Schiller, President, AutomaTech Inc. "Bayshore's modular ICS protection system provides immediate protection to customers without requiring months of planning and implementation. For those customers whose needs evolve, the Bayshore system will allow them to migrate from SCADAFuse to Lighthouse and gain the benefit of fully customizable policy enforcement across their entire infrastructures."
"We pride ourselves on offering a dedicated Cyber as a Service offering to our industrial customers," said Scott Christensen, Cyber Practice Director for Graymatter Systems. "As we strengthen our cyber practice, our customers will value the clean protection SCADAFuse brings to our portfolio of leading ICS cyber products and services."
SCADAFuse is launching today and is available in three versions: Lite, Standard, and Premium, with suggested retail pricing of $2495, $4995, and $8995, respectively. More details and methods to register interest with Bayshore and its partners are available at https://www.bayshorenetworks.com/scadafuse.
About Bayshore Networks
Bayshore Networks is the leading provider of industrial cyber protection. The Company's award-winning technology unlocks the power of the Industrial Internet of Things (IIoT), providing enterprises with visibility into their Operational Technology infrastructure while safely and securely protecting ICS systems, industrial applications, networks, machines, and workers from cyber threats. For more information, visit https://www.bayshorenetworks.com.