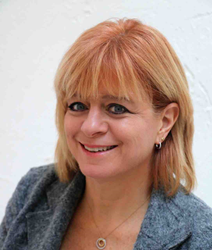 Molly Zraik has been a passionate contributor to her clients' success and generous mentor to so many women business leaders in our community. -- Sheila Mixon, Executive Director of WBEC ORV
TOLEDO, Ohio (PRWEB) November 12, 2020
Molly Zraik, CEO and Founder of The BAZ Group, has been named the Women's Business Enterprise Council Ohio River Valley (WBEC ORV) Advocate of the Year for Ohio, in recognition of her leadership and support of Women's Business Enterprises (WBEs) throughout the state. Announced at the WBEC ORV Catch the Wave Virtual Conference, this is the first time the organization has recognized a WBE as Advocate of the Year on the state level.
"Molly Zraik demonstrates remarkable women's business leadership. As the founder and driver of a flourishing company, she has been a passionate contributor to her clients' success and generous mentor to so many women business leaders in our community. We are proud to honor her as Advocate of the Year for Ohio," said Sheila Mixon, Executive Director of WBEC ORV, an organization for women business owners interested in promoting, developing and maintaining business relationships with other women business owners, major corporations and governmental agencies.
"We at BAZ applaud WBEC ORV for the powerful opportunities Sheila Mixon and her team provide for personal and professional advancement, and for making meaningful connections with other women business owners. I am honored to stand with the many successful WBEs that contribute growth and innovation to our state and our nation," Zraik said.
Over 27 years, BAZ Group has delivered seasoned technology expertise and visionary guidance to organizations seeking to eliminate chaos and excess cost from their network environments – voice, internet, mobile and data.
While harnessing the power of AI, the BAZ team brings the crucial human element of informed perspective and inquiry to their clients' strategic decision-making. Over the years, Zraik built BAZ Group's reputation for technical expertise, knowledge of legacy and state-of-the-art systems, and a creative approach to ensure that her clients deliver their services anywhere, anytime and on a customized basis.
Zraik is a passionate supporter of WBEC ORV, having chaired the Catch the Wave Conference, sits on the WBENC Forum, and is theToledo WBE Forum Luncheon Chair. She has served on the Board and as an Executive Committee member of the Society of Communications Technology Consultants International (SCTC).