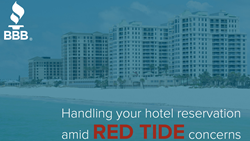 Communication with the business is key should you experience an issue with cancelling.
CLEARWATER, Fla. (PRWEB) August 16, 2018
Red tide continues to cause concerns for people who have plans to vacation in Florida and are undecided if they should cancel their reservations.
BBB has received an increase in complaints filed against businesses offering vacation rentals and services in relation to the presence of red tide. Complaints filed by consumers allege issues with receiving refunds following cancellation and businesses not disclosing potential red tide issues.
As a consumer, it's important to know your rights. This begins with understanding the terms and conditions of your contract for a vacation rental or the refund policy for a hotel reservation. Establishments are not required under Florida law to issue refunds for prepaid reservations.
Communication with the business is key should you experience an issue with cancelling. Talk with the management for the business in efforts to resolve your issues. Most businesses want to keep you as a customer and will work with you to find a reasonable solution.
More Information:
For information about current conditions involving red tide, the Florida Fish and Wildlife Conservation Commission has up to date information at http://www.myfwc.com/redtidestatus.
If you're having a problem with your reservation visit http://www.bbb.org/howtocomplain for more information.
For more BBB Tips on Booking a Hotel visit: us.bbb.org/hotels
For more BBB Tips on Planning a Vacation visit: us.bbb.org/vacation
ABOUT BBB®:
BBB is an unbiased non-profit organization that sets and upholds high standards for fair and honest business behavior. Businesses that earn BBB accreditation contractually agree and adhere to the organization's high standards of ethical business behavior. BBB provides objective advice, free BBB Business Profiles and BBB Wise Giving Reports®, and educational information on topics affecting marketplace trust. To further promote trust, BBB also offers complaint and dispute resolution support for consumers and businesses when there is a difference in viewpoints. For more than 100 years, Better Business Bureau has been helping consumers find businesses, brands and charities they can trust. Better Business Bureau Serving West Florida is one of many local, independent BBBs across North America that provide business profiles on companies within its 11 county service area. These counties include: Hernando, Pasco, Pinellas, Hillsborough, Manatee, Sarasota, Hardee, Desoto, Charlotte, Lee & Collier.