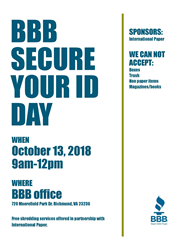 RICHMOND, Va. (PRWEB) October 10, 2018
On October 13, 2018 BBB will hold the bi-annual "Secure Your ID" Day at their Moorefield Park Drive office parking lot. We encourage all residents and local businesses to come out Saturday morning and take this important step to protecting their identity by properly disposing of sensitive paper documents. BBB serving Central Virginia will be partnering again with International Paper to provide off site shredding services for this event.
Identity theft is a growing concern in the United States today and BBB wants to make sure we're providing our communities with the best methods to dispose of this information safely and effectively, Residents and local businesses can cut down on the chances a scammer has to steal their personal information by keeping track of and disposing of it in a proper timeframe. If you don't need it destroy it responsibly.
BBB Event Details
Who: Better Business Bureau Serving Central Virginia
What: Free off-site document shredding provided by our community partner International Paper
When: Saturday, October 13th, 2018 from 9am to 12pm
Where: 720 Moorefield Park Drive Richmond VA 23236
Documents to be shredded should be removed from binders, but staples, paper clips are okay to be shredded.
According to the Federal Trade Commission's 2017 Consumer Sentinel Network Data Book "2.68 million consumers submitted reports about fraud, identity theft and other types of consumer concerns." The Report also states "consumers reported losing a total of $905 million to fraud in 2017 -- $63 million more than in 2016."
BBB is committed to educating our local communities about the dangers of identity theft and providing ways to protect against this ever-growing concern. If you have any questions about this free community event, please reach out to us at 804-648-0030 or info(at)centralvirginia.bbb.org.
About BBB serving Central Virginia: Provides service to Richmond, the Tri-Cities, Charlottesville and Fredericksburg, as well as 42 surrounding counties from Fauquier to Mecklenburg and Northumberland to Amherst. The nonprofit organization was established in 1954 to advance responsible, honest, and ethical business practices and to promote customer confidence through self-regulation of business. Core services of BBB include business profiles, dispute resolution, truth-in advertising, consumer and business education, and charity review