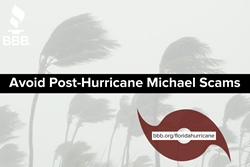 CLEARWATER, Fla. (PRWEB) October 09, 2018
Shortly after Hurricane Michael passes, consumers affected by the storm will start to evaluate any damage done and begin the clean-up process. Better Business Bureau receives hundreds of complaints every year concerning subpar work performed by contractors, and encourages consumers to take the time to properly research contractors to avoid creating a bigger problem. Natural disasters can bring out the best in people, as strangers reach out to help others in need. Unfortunately, the aftermath of a crisis typically also brings out many types of scams and unlicensed contractors who take advantage of those who have been victimized.
Better Business Bureau is warning local residents that may be affected by Hurricane Michael to beware of storm chasers and out-of-town contractors soliciting business. It is common for out-of-town storm chasers to solicit business after storms; read more about how to protect yourself. Disaster victims should never feel pressured to make a decision by an unknown contractor. Consumers should Start With Trust and look for the BBB Accredited Business Seal; these companies are screened, monitored, licensed and trusted. Storm chasers may not have proper licensure for your area and may offer quick fixes or make big promises to which they won't deliver."
Your BBB offers resources for Hurricane Michael victims at http://www.bbb.org/floridahurricane.
BBB's Florida Hurricane Guide provides a one-stop resource page to help Florida's consumers, businesses and nonprofits prepare for a hurricane. Within this guide, you will find tips on disaster preparedness, recovery and repair, how to avoid storm chaser scams, giving wisely to disaster relief charities and additional government resources. Please take a moment to review this guide and share with your family and friends. Should you have any questions please do not hesitate to contact your local Better Business Bureau.
If you hire an uninsured and unlicensed contractor and a serious injury were to occur to the contractor, you, as the person that hired them, could potentially be liable for paying the workers compensation benefits. This could turn a simple $1,000 repair into a bill for tens of thousands more. In addition, a neighboring property, a passerby or other property that is negligently damaged by an unlicensed contractor can become a liability to the person that hired the contractor. Start With Trust. For reliable information, lists of BBB Accredited Businesses by industry and BBB Business Profiles you can trust on local businesses, visit http://www.bbb.org.
About BBB
BBB is an unbiased non-profit organization that sets and upholds high standards for fair and honest business behavior. Businesses that earn BBB accreditation contractually agree and adhere to the organization's high standards of ethical business behavior. BBB provides objective advice, free BBB Business Profiles and BBB Wise Giving Reports®, and educational information on topics affecting marketplace trust. To further promote trust, BBB also offers complaint and dispute resolution support for consumers and businesses when there is a difference in viewpoints. For more than 100 years, Better Business Bureau has been helping consumers find businesses, brands and charities they can trust. Five BBB offices service the State of Florida, with primary locations in Clearwater, Jacksonville, Longwood, Pensacola and West Palm Beach.