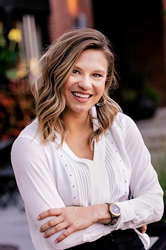 FAIRFAX, Va. (PRWEB) February 06, 2020
Jessica Du Bois, an employee benefits adviser at the Business Benefits Group, was recently recognized as one of the top twenty benefits advisers in Employee Benefits Adviser's list of the 2020 Rising Stars in Advising for her outstanding success as a benefits consultant. This prestigious list recognizes a group of talented leaders aged 26 to 35, for their success in managing healthcare and benefits offerings for businesses.
The 2020 Rising Stars in Advising list was created by Employee Benefits Adviser, to highlight the exceptional work of benefits advisers and consultants across the country. They selected a new generation of talented individuals, such as Jessica Du Bois, who have offered new perspectives on benefits packages. The benefits advisers and consultants on this list lead the industry in providing efficient solutions for small businesses and corporations alike. The ability to provide clients with innovative healthcare solutions and business insurance policies are among the many qualities that earned them a spot on the list. Jessica Du Bois is known for providing outstanding customer service through highly educated benefits consulting and her desire for complete client satisfaction.
BBG would like to congratulate Jessica Du Bois for being recognized as one of the twenty benefits advisers to be honored on the list. Jessica Du Bois has exhibited continuous excellence at BBG, providing organizations with employee benefit packages that meet their specific needs. Jessica consults businesses and provides assistance when determining which strategies are essential to their company, and provides suggestions for additional policy options to consider based on their needs. As a senior adviser at BBG, Jessica Du Bois works with numerous business clients to provide them with lifelong insurance options to benefit the futures of their employees and company.
"It feels good to represent BBG and the D.C. region as a Rising Star in Employee Benefits," Jessica stated after receiving the award. "I've had incredible role models and mentors, along with so many opportunities to grow. This is only the beginning of the impact I want to make and I am so fortunate it's with a company and industry that welcomes me." Her colleague and fellow employee benefits adviser at BBG, Derek Winn, earned a spot on the Rising Stars in Advising list in 2019.
Speak to Jessica Du Bois or any of the other benefits consultants at BBG for more information and to receive consultation on employee benefits for your company. BBG offers a variety of services such as commercial auto, DBA, directors and officers, errors and omissions, general liability, malpractice, property, and umbrella liability insurance options. BBG can be contacted toll-free by phone at (844) 201-3612 or online at https://www.bbgbroker.com/. The firm is headquartered at 4069 Chain Bridge Road, Top Floor, Fairfax, VA 22030.