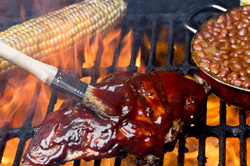 Anyone familiar with monthly subscription companies knows that Amazing Clubs is the best, and their BBQ Sauce Club continues to be at the top of our list,
OVERLAND PARK, Kan. (PRWEB) December 11, 2020
TopConsumerReviews.com once again recognized Amazing Clubs as the preferred site for subscribing to a BBQ Sauce Club., continuing the company's best-in-class track record among providers of this membership service.
What is the perfect gift for the person who has everything? Many people find themselves scratching their heads during the holidays or other special occasions, trying to find a present that goes beyond the typical gift cards and floral arrangements - something truly unique or fun. Gift clubs are becoming increasingly popular, delivering carefully-sourced products typically unavailable in big-box retail stores, on a schedule ranging from three months to a year. And, for the meat-lover in everyone's life, a BBQ Sauce Club is the ideal gift. Shipments usually include one or two bottles of mouthwatering sauces from around the country, made in small batches with flavors that enhance beef, chicken or pork in delicious ways.
"Anyone familiar with monthly subscription companies knows that Amazing Clubs is the best, and their BBQ Sauce Club continues to be at the top of our list," confirmed Brian Dolezal of TopConsumerReviews.com, LLC. "If you're looking for a gift for someone who loves all the meats, this club can't be beat: two full-sized bottles of the nation's best sauces each month, with flavors like Roaring Boar's Kansas City style or Brown's WooHoo Honey Mustard. Plus, Amazing Clubs is unmatched when it comes to customer service; there's no other BBQ Sauce Club that stands by its products with a 100% satisfaction guarantee, offers free shipping on every delivery, and gives shoppers such a wide array of payment options and subscription lengths. It's easy to see why Amazing Clubs earns our highest ranking across so many gift club types, and we're happy to give their BBQ Sauce Club another five-star rating in 2020."
To find out more about Amazing Clubs and other BBQ Sauce Clubs, including reviews and comparison rankings, please visit the BBQ Sauce Club category of TopConsumerReviews.com at http://www.topconsumerreviews.com/best-bbq-sauce-clubs/.
About Amazing Clubs
Amazing Clubs was founded in 2003 and began with the mission of bringing its members the most exclusive and highest-quality gourmet items available anywhere. Initially beginning with a single club, Amazing Clubs rapidly expanded to include more than 40 clubs ranging from bacon to wine. Amazing Clubs currently has offices in three states and two countries, and is proud to have served more than two million happy customers. Amazing Clubs is a division of ICG America, Inc.
About TopConsumerReviews.com
TopConsumerReviews.com, LLC is a leading provider of reviews and rankings for thousands of consumer products and services. From BBQ Sauce Clubs to Coffee Clubs and Gift Baskets, TopConsumerReviews.com delivers in-depth product evaluations in order to make purchasing decisions easier.