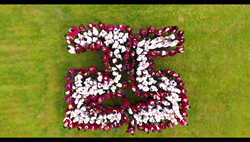 Vancouver, BC, Canada (PRWEB) August 23, 2017
British Columbia Christian Academy, a non-profit school that provides Christian education to young people in the Tri-Cities, Fraser Valley and Lower Mainland area as well as students from around the world, is celebrating its twenty-fifth anniversary this 2017.
"The mission of British Columbia Christian Academy for the past twenty-five years has been to assist families by providing a Christ-centred, Bible-based education that inspires each student to pursue excellence in spiritual growth, moral character, academics, fine arts, physical fitness and service to others," said Ana Enduma, Marketing and Development Assistant. "We do all of this in an environment with a strong community, which has compassion for one another."
British Columbia Christian Academy was founded in 1992 when a group of Christian families shared the vision for an independent Christian school in the Tri-Cities area. Initially, numerous classrooms at the old Burnaby North High School were leased to teach a handful of high school students. In 1993, a full range of classes from Kindergarten to Grade 12 were established and the Ministry of Education granted British Columbia Christian Academy the Group 1 Independent School status.
In June 2008, British Columbia Christian Academy leased the former Lincoln Elementary public school facility at 1019 Fernwood Avenue in Port Coquitlam. Today, it has more than 300 students at this site.
"Over the years, British Columbia Christian Academy has worked hard at educating and equipping its students from Pre-K to Grade 12 to impact the lives of others and to dispel three misconceptions about private Christian schools. This is achieved through the school's three 'Cs' of Community, Compassion and Christ," noted the school's Head Principal, Ian Jarvie.
People often think that private Christian school is exclusive and selective. BC Christian Academy, on the other hand, has a diverse yet tight-knit community of students and families from different regions and backgrounds. The second misconception is that private Christian school is expensive for the average working family, yet British Columbia Christian Academy has an existing tuition support program that assist and enable families which otherwise could not afford a private school education for their children. Thirdly that Christ is not relevant in education, which is why the academy lays the Christian foundation essential in equipping students as they constantly face a worldview that does not recognize Christ. "British Columbia Christian Academy continues to be firmly rooted and faithfully growing in its mission of equipping students to impact the world for Jesus," noted Enduma.
Last May 13 at the Executive Plaza Hotel, British Columbia Christian Academy held a 25th Anniversary Fundraising Gala Dinner that raised approximately $214,000. The money raised will be used to help the Junior Kindergarten to Grade 12 academy upgrade its server and school-wide security system, replace old laptops and aging computers and continue its grant program to support families who otherwise could not afford the tuition. "As we provide better technological services, we are able to enhance our students' learning and prepare them for post-secondary education and careers that await them," said Jarvie.
BC Christian Academy is looking forward to serving the community in the next 25 years. For more information about the school, please visit http://www.bcchristianacademy.ca. Applications for Pre-K to Grade 12 are still accepted, but limited spots are available. For admission, please email admissions(at)bcchristianacademy(dot)ca directly. To donate directly to the school, visit http://bcchristianacademy.ca/ways-to-give/giving/.
About British Columbia Christian Academy
British Columbia Christian Academy is a Junior Kindergarten to Grade 12 interdenominational private Christian school in the Greater Vancouver area. Students are taught by an all-Christian, dedicated, passionate B.C.-certified teaching staff in smaller class sizes as compared to public schools. For more information, please call +1 604-941-8426, or visit http://www.bcchristianacademy.ca.
About the NALA™
The NALA offers small and medium-sized businesses effective ways to reach customers through new media. As a single-agency source, the NALA helps businesses flourish in their local community. The NALA's mission is to promote a business' relevant and newsworthy events and achievements, both online and through traditional media. The information and content in this article are not in conjunction with the views of the NALA. For media inquiries, please call 805.650.6121, ext. 361.