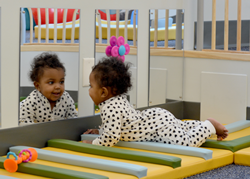 We are so proud to open this innovative, world-class exhibit. It is the culmination of 40 years of the Museum's learning and research about how children develop and grow. PlaySpace is more than what one would think of as an exhibit.
BOSTON (PRWEB) February 05, 2020
Boston Children's Museum has announced the opening of a reimagined and redesigned PlaySpace, a permanent exhibit designed specifically to provide young children and their caregivers with a safe, comfortable environment for the play and exploration that is critical to physical and skills development.
Unique in size and scope, PlaySpace is a joyful and playful collection of developmentally appropriate experiences where kids may develop and practice their social, emotional, cognitive, and physical skills. The exhibit is a staffed space within the Museum where very young children can explore in their own way and at their own pace secluded from the energy and excitement of older children.
"We are so proud to open this innovative, world-class exhibit. It is the culmination of 40 years of the Museum's learning and research about how children develop and grow. PlaySpace is more than what one would think of as an exhibit. It is an ongoing experiment in play and learning that is responding to an increasingly complex and challenging world, where the proliferation of media and the lack of unstructured playtime are increasingly the norm," said Carole Charnow, President and CEO of the Museum.
In 1978, Boston Children's Museum opened its original PlaySpace, the first exhibit created exclusively for very young children and their caregivers. The experiment was a huge success, becoming a national and international model for spaces for young children in museums. The exhibit has had four major renovations since then, the most recent in 2000. In 2016, the Museum launched the current initiative to reimagine and redesign the space, an extensive project that was informed by over 40 years of experience, current research on child development and early learning, and knowledge of the Museum's audience. The all-new PlaySpace is a nurturing, developmentally appropriate environment where children ages 3 and under and their caregivers can wonder, explore, play, discover, and connect in a safe place built just for them.
A growing body of research, including that from the Center on the Developing Child at Harvard University, shows that birth to 3 is a unique period that establishes a foundation for all future development and learning. In this critical time of life, rich experiences and supportive relationships with parents and caregivers play a major role in the healthy development of young children. In the reimagined PlaySpace, infants and toddlers can learn about themselves and the world around them; adults can learn about their young children and the importance of early experiences; and together adults and young children can build relationships and experience delight in playing together.
The New PlaySpace Experience
The new exhibit was developed and designed by the Museum's own team of creative professionals. It reflects the need for very young children to explore both independently and with their adults, take age-appropriate risks, engage in rich pretend play, experiment with and manipulate sensory materials, and climb, slide, jump, and crawl - all in a safe space built just for them. It encourages adults to relax, slow down, observe their children at play, and to discover and celebrate the new skills their children are developing.
Key experience areas of the exhibit include:

Adventure landscape - When children engage in physical play (also known as gross motor play), they develop important skills such as balancing, walking, climbing, jumping, rolling, sliding, and navigating through space - at their own pace and comfort level. Features of the adventure landscape include intersecting pathways, a wobbly bridge, a noodle obstacle course, net climber, and toddler-height hill.
Pretend Play - When children pretend, they learn about themselves and their surroundings, and develop strong communication skills. As they develop and grow, their play moves beyond everyday experiences to imagined scenarios. Pretend play activities include a child-size playhouse, a jeep with a truck bed, a forest that includes a cave, treetop walkway, birds' nest, fish tank, and a book nook where families can read together.
Train Table - While playing with trains, children build fine motor skills and spatial awareness as they push trains over bridges, through tunnels, and around the tracks. They engage in problem solving as they figure out how to get their train from here to there, and – when developmentally ready – enter into pretend worlds, exercising their imaginations.
Tot Lab - Young children explore the world with all of their senses. By getting messy with open-ended sensory materials that caregivers might be reluctant to try at home (water, play dough, paint, etc.), children discover both what materials can do and what they can do with those materials – promoting curiosity, and practicing focus, persistence, and problem solving.
Early STEAM Explorations - Children are naturally curious about how the world works, and having opportunities to explore natural phenomena allows them to develop and practice important skills and capacities, such as observing, exploring, persisting, and trying again. STEAM exploration components include a wind tunnel, air table, light table, light wall, and balls and tubes.
BabyScape - Infants and their caregivers have different needs than toddlers and benefit from a dedicated and protected space of their own. BabyScape is a shoes-off area with a welcoming entry and gate that separates it from the rest of PlaySpace and designates it as only for infants and their caregivers.
MIT PlayLab - Since 2008, Boston Children's Museum has teamed up with researchers from MIT's Early Childhood Cognition Lab to explore what young children understand and how their thinking and learning develops. By observing many children, researchers learn what infants and toddlers understand and how learning happens at different stages of development.
Visitor Amenities - kitchen, eating area, family bathroom, nursing room PlaySpace supports infants, toddlers, and their caregivers in unique ways – including basic amenities such as carefully designed bathrooms and areas for eating, feeding, and relaxing.
PlaySpace is generously supported by The Counts Family, Dr. Sonya Kurzweil, and Eve and Jon Rounds and was made possible, in part, by the Institute of Museum and Library Services, Mass Cultural Council, and MIT Early Childhood Cognition Lab.
For additional information, visit https://www.bostonchildrensmuseum.org
About Boston Children's Museum
Boston Children's Museum engages children and families in joyful discovery experiences that instill an appreciation of our world, develop foundational skills, and spark a lifelong love of learning. More information about Boston Children's Museum can be found at http://www.BostonChildrensMuseum.org. Become a fan of the Museum on Facebook and follow us on Twitter
Hours and Admission
The Museum is open daily from 10:00 a.m. – 5:00 p.m. Fridays until 9:00 p.m. Adults, $18, children (1-15) and senior citizens, $18; children under 12 months and Museum members are always free. Fridays 5:00 p.m. – 9:00 p.m., all visitors $1.