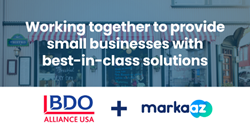 CHICAGO and LOS ANGELES (PRWEB) December 21, 2020
The BDO Alliance USA ("BDO Alliance"), an association of independent accounting, consulting, product and service firms, and Markaaz, the world's first global operating system for small and mid-size businesses, today announced a strategic relationship that will enable the development and deployment of world class integrated solutions for small and medium sized businesses (SMBs).
Through this strategic relationship, BDO Alliance's Business Resource Network (BRN), a collection of independent firms that provide professional services and products to businesses, will complement its current service offerings through Markaaz' best-in-class tools and resources that help support SMB clients in growing and managing their businesses. "We're excited to join forces with Markaaz and leverage its groundbreaking platform and solutions to help round out the digital service offerings we provide to BRN clients," says Rob Merl, National Practice Director of the BDO Alliance USA Business Resource Network. "Markaaz connects the dots for clients in new ways and brings innovation and execution to another level. We're looking forward to making this available to our Alliance Firms and their clients."
Markaaz has a scalable integrated solution set, powered by patented AI, data, and infrastructure to deliver its all-in-one platform. This means that for the first time, SMBs will be able to connect and integrate their CRM, accounting, supply chain and many other services through Markaaz, while also being able to create custom solutions and tools for their individual business in real-time. Markaaz and the BDO Alliance will make this functionality accessible for all SMB clients.
Hany Fam, founder and CEO of Markaaz also added: "With the BDO Alliance, we have found a leading strategic organization who understands the need for integration, streamlining and inclusion across the small and mid-market and has the assets and commitment to drive this with us. We're looking forward to building a better environment with increased resources and opportunities for SMBs, but this is only the beginning. Together, we have a bold vision with the BDO Alliance."
About BDO Alliance USA
The BDO Alliance USA is a nationwide association of independently owned local and regional accounting, consulting, product and service firms with similar client service goals. The BDO Alliance USA presents an opportunity for these firms, by accessing the resources of BDO USA, LLP and other Alliance members, to expand services to their clients without jeopardizing their existing relationships or their autonomy. The BDO Alliance USA was developed to provide Member firms with an alternative strategy for gaining competitive advantage in the face of a changing business landscape. The BDO Alliance USA is a subsidiary of BDO USA, LLP, a Delaware limited liability partnership.
For Media inquiries for BDO Alliance USA:
Colleen Mhley
cmhley@bdo.com
About Markaaz
Markaaz is the world's first global Operating System for small businesses, supported by a pre-populated global directory of vetted businesses. Markaaz is the Community for Small Businesses and the Network for its Partners. Markaaz develops and applies proprietary technology to support SMBs, including an AI and recommendations engine to create best-in-class SMB-friendly tools, and using natural language conversations with SMBs, it will develop and deliver custom tools in real-time for the specific needs of each SMB. Founded by a team who has done this before, supported by a world class leadership team and board, Markaaz has been internationally recognized by the World Economic Forum as a Global Innovator and is driving digital adoption for SMBs globally.
For media inquiries for Markaaz:
Jo-Anne Coombes
markaaz@boltpr.com