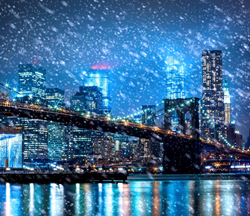 We learned from weather disasters that you need to be up and running as soon as possible.
HOBOKEN, N.J. (PRWEB) January 10, 2019
A NYC area IT consultant and MSP discusses winter storm preparedness for businesses in a new article on the eMazzanti Technologies website. Steps to safeguard business continuity, including checking back-up power and surge protectors are among the tips shared.
The informative article also discusses how cloud computing, which provides remote access for workers, helps a business to maintain operations during bad weather.
"Take reasonable precautions when winter storms approach," stated Carl Mazzanti, Vice President and Co-founder of eMazzanti Technologies. "We learned from weather disasters that you need to be up and running as soon as possible. If your business is not stable, it's nearly impossible to service your customers well."
Below are a few excerpts from the article, "Be Prepared for Winter Storms to Ensure Business Continuity."
Safeguard Business Continuity
"To safeguard your business during winter storms, we recommend that you verify the integrity of your business continuity equipment such as uninterruptible power supply (UPS) devices and surge protectors. Our experience through hurricanes and blizzards has taught us that a major challenge faced by businesses during a weather-related disaster or event is the loss of power."
Winter Storms Protection from the Cloud
"Major winter storms cost the U.S. economy billions of dollars. In addition to physical damage, a large percentage of businesses suffer staff shortages during snow storms and other bad weather. Often lacking the ability for employees to work remotely, productivity and customer service suffer. Consequently, many small businesses fail each year due to bad weather."
"Fortunately, cloud computing can add protection against snow and cold weather while reducing your IT expenses. Cloud-hosted business applications and Software as a Service (SaaS) leverage the reliability, redundancy and everywhere access of the Internet to minimize bad weather losses."
Business Continuity Specialists
Winter storms have the potential to make life difficult for a business, employees and customers. Fortunately, eMazzanti Technologies specializes in business continuity and disaster recovery for small and mid-size businesses.
Whether it's drawing up a plan to protect business operations from winter storms, managing IT resources remotely or planning and implementing a company's cloud migration, eMazzanti Technologies has the trained and certified IT experts to help business prosper in all kinds of weather.
Related resource information:
2019 Small Business Technology You Can Use
Cybersecurity for Small Business: Physical Security
About eMazzanti Technologies
eMazzanti's team of trained, certified IT experts rapidly deliver increased revenue growth, data security and productivity for clients ranging from law firms to high-end global retailers, expertly providing advanced retail and payment technology, digital marketing services, cloud and mobile solutions, multi-site implementations, 24×7 outsourced network management, remote monitoring and support.
eMazzanti has made the Inc. 5000 list eight consecutive years, is a 2015, 2013 and 2012 Microsoft Partner of the Year, 2016 NJ Business of the Year, 5X WatchGuard Partner of the Year and one of the TOP 200 U.S. Microsoft Partners! Contact: 1-866-362-9926, info(at)emazzanti(dot)net or http://www.emazzanti.net Twitter: @emazzanti Facebook: Facebook.com/emazzantitechnologies.