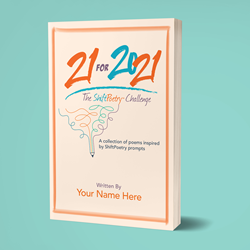 LOS ANGELES (PRWEB) January 21, 2021
ShiftPoetry™ is the spontaneous writing therapy that aims to free the mind, confront one's emotions, and promote a feeling of personal well-being. Over the past year, ShiftPoetry has conducted virtual sessions in lieu of no-longer permitted in-person meetings. Now, 21 for 2021 - The ShiftPoetry Challenge creates an opportunity to celebrate the hope that the new year represents after so much suffering.
The beauty of ShiftPoetry is that you do not need to be a writer. It is about the freedom to express yourself without judgement to explore the deep emotional issues we all have. A perfect accessory to therapy, ShiftPoetry offers relatable prompts that allow you to easily start writing freely.
21 for 2021 - The ShiftPoetry Challenge is designed to bring positive focus to this new year and decade. While we cannot change what has happened, we do have the freedom to write "aspirationally" about what comes next. This challenge will set you on a path of self-discovery and reflection designed to bring your best self forward.
Included in the ShiftPoetry Challenge are 21 Prompts. We recommend that each person writes in 10-minute spurts in response to each prompt. Once all 21 responses have been completed, each person can submit this body of work, together with a photo, and their bio or personal statement. For $212.10, plus shipping and handling, ShiftPoetry will create your unique personalized volume of 21 for 2021 - The ShiftPoetry Challenge and will provide you with five beautifully produced 6" x 9" print copies of your own writings. Additional copies are available upon request for purchase.
Since its inception in 2018, the ShiftPoetry process has helped people to heal, make positive life changes, and make heart-based decisions that have had great personal effect. ShiftPoetry in the Time of COVID-19 and Poetry Without Pants, the two published ShiftPoetry anthologies and workbooks, include hundreds of poems written by dozens of people who have participated in its Zoom workshops. Now, you too can be a distinguished published ShiftPoet.
To learn more about ShiftPoetry, its anthologies and workbooks, its workshops, and its other products and services, visit shiftpoetry.com, and follow on Facebook.