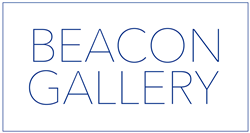 "Being able to feature two different artists and pair them with the traditional notion of Valentine's Day offers the occasion to enjoy their work in a creative and novel way," notes Christine O'Donnell, Beacon Gallery owner and director.
BOSTON (PRWEB) January 06, 2023
Just in time for Valentine's Day, Beacon Gallery is excited to debut two concurrent solo exhibitions: Sweet Talk and Cafe Chats, which will run from January 13 to February 14, 2023 and features the work of artists Nicci Sevier-Vuyk and Rebecca Vincenzi. This exhibition pairing will include traditional Parisian city scenes and patisserie treats, as well as the more familiar American sweetheart candies with a playful twist. In response to the irony of one of America's most over-commercialized holidays, and the popular illusion of a city dominated by the Eiffel Tower and romance, Cafe Chats and Sweet Talk both offer unique perspectives on these widely celebrated themes.
"Being able to feature two different artists and pair them with the traditional notion of Valentine's Day offers the occasion to enjoy their work in a creative and novel way," notes Christine O'Donnell, Beacon Gallery owner and director.
Nicci Sevier-Vuyk's cheeky Sweet Talk exhibit emphasizes the all too familiar images of February 14th as it exists in the U.S. Known for her colorful, realistic, acrylic paintings of iconic objects in culture, Sevier-Vuyk's candy heart paintings reference the cultural tradition of exchanging cards and sweets for Valentine's Day. Through the maze of candy-colored treats and dreamy escapes, viewers are invited to consider the images and tropes that make up societal notions of "love" and "romance." Rather than indulging one's sweet tooth with an ephemeral bite, Sevier-Vuyk's artistic candies offer audiences the chance to celebrate these holiday traditions, with a new appreciation of her social and cultural commentary through her artwork.
British-French artist Rebecca Vincenzi returns to Beacon Gallery for her second solo exhibition, Café Chats. Vincenzi's indulgent oil paintings share an alternative view of the world famous City of Lights. Rather than the expected scenes of romance, such as walks along the Seine or the Eiffel Tower, the viewer can experience the daily life of local markets from the Goutte d'Or neighborhood in Paris's 18th arrondissement, as depicted in her work. From cafe scenes, and still lifes of decadent pastries one can see a more authentic visual interpretation of the many facets of city life that may often seem distant or one-dimensional to audiences.
Upcoming Events
An opening event with a wine tasting and musical performance is scheduled for January 13th, and a closing event will take place on Valentine's Day (Feb. 14) where Sevier-Vuyk will personalize 4 x 4 love hearts between 12–3 p.m. Also, Rebecca Vincenzi and gallery owner, Christine O'Donnell, will lead an online "Paris and the Art World" class, date coming soon.
About the Artists
Nicci Sevier-Vuyk is an American artist known for her colorful, realistic acrylic paintings of iconic objects in culture. Her work is fueled by her interest in the conflict between appearance, its meaning in culture, and substance. These stereotypes of beauty and a playful sense of irony are main themes in her paintings. She has painted throughout her life and after an initial career as a pediatric nurse practitioner, she focused on her art practice full-time. She has attended The Glassell School of Art in Houston, but mainly considers herself to be a self-taught artist. With two solo exhibitions and being included in many juried exhibitions, she has also been featured twice on The Jealous Curator's blog. Born in northern California, Sevier-Vuyk now lives and works in Southborough, Massachusetts.
Rebecca Vincenzi was born in England in 1968, and after studying English at London University, she then studied illustration at St. Martin's School of Art and the Open College of the Arts. She embarked on a career of writing and illustrating texts for children and adults alike, and moved to Paris to teach drawing in the 1990s. She has since appeared in numerous group and solo exhibitions in the UK, France and the United States and has been featured in multiple museum Biennales in China. Her artwork captures the streets, cafés and people of Paris – initially in a sketch and then she returns to her atelier to transform these images into paintings. She considers these images as record keeping: a sort of living journal to record the flow of life. As Proust said, "The real voyage of discovery consists not in seeking new landscapes but in having new eyes" and Vincenzi maintains her curiosity in how the city of Paris, a source of inspiration for so many throughout the ages, reveals its magic.
About Beacon Gallery
Beacon Gallery is a contemporary art gallery located in Boston's South End, providing a platform for emerging and established artists to deliver thought-provoking solo and group shows, and community-building events. As a partner to greater Boston's artistic community, Beacon Gallery is committed to producing thoughtfully curated exhibitions that showcase original conceptual art and share compelling messages and unique perspectives. Its aim is to make art accessible to the general public, as well as collectors and institutions locally, nationally and globally. For more information go to our website and follow us on Instagram at @beacongallery.